Let's try an exercise in understanding today; we're going to walk a mile in another man's shoes. Imagine:
You're a middle manager at a fictional company we'll call Widget-Tech. Widget-Tech is a business with under 100 employees and has recently had a couple of bad years.
The big bosses at Widget-Tech have put together a long term financial plan designed to save the company and make them profitable again. Part of that plan calls for cutting operational expenses by 10 percent and so step 1 in that process is a reduction in the employee workforce by 10 percent.
The positions cut are mostly entry level jobs and a handful of middle managers, but luckily for you your job is still safe (for the moment).
Shortly after those staff reductions, the big bosses announce step 2 in the plan: everyone has to take a mandatory unpaid "vacation".
Just when you thought you had things figured out (the big bosses must have some sort of mental handicap) step 3 begins: senior managers and big bosses get 3-4 percent raises.
What message do you think the big bosses are sending everyone? Would you feel motivated? What kind shape do you think company morale is in?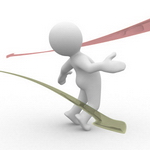 Well this situation isn't far removed from what's happening in the ranks of the administration at the Philadelphia Orchestra Association (POA).
Which of three step program seems most bizarre to you? To me, it's the act of giving executive administrators 3-4 percent raises while at the same time cutting positions in order to save 10 percent on the orchestra's administrative expenditures. It's nearly incomprehensible. What sort of schizophrenic message are they sending the staff: I hate you and I love you?
In order to find the answers to these questions and hopefully clear things up, I asked Joe Kluger, the Philadelphia Orchestra Association's President, to walk me through the process. He was kind enough to talk to me on the phone earlier this week…
I started off asking Mr. Kluger about his own raise.
Drew McManus: Why did you feel it was necessary to accept a $10,000 raise while at the same time the POA was asking the music director, guest artists, and musicians to take a 10 percent pay cut?
Joe Kluger: In two of the past four years I didn't have any raise. My salary [after the raise] is currently $285,000 and I've agreed to donate 10 percent of that back to the orchestra.
Drew McManus: Do you plan to give that donation every year?
Joe Kluger: I'm doing it this year, but I'm looking at this one year at a time. Once the POA achieves financial stability, for example a balanced budget, I wouldn't feel the same need to make that donation. I also want to remind you that I'm one of the lowest paid chief executive's in this business and I'm paid much less than the other Big 5 executives.
Drew McManus: So are you saying that the other executives are overpaid or that you're underpaid?
Joe Kluger: Look, I understand that my salary is still a lot of money and I'm satisfied with what I'm paid.
Drew McManus: Then why mention the other executive salaries?
Joe Kluger: Because it's fair to look at competitive compensation.
Drew McManus: But you're satisfied with your salary?
Joe Kluger: Yes.
Drew McManus: How do you justify giving yourself a raise while at the same time eliminating administrative positions?
Joe Kluger: The POA's long term financial plan is to reduce expenses in order to provide funds for raises. The board felt it was necessary to offer raises to me and the senior management because they wanted us to think we are highly valued. And I agree with the board's decision. If I took a pay freeze this year, it would send the wrong message to the staff. The raises also allow the POA to provide competitive salaries that let us attract and retain only the highest quality administrators.
Drew McManus: Before you implemented those raises, were you having problems attracting or retaining qualified candidates for administrative positions?
Joe Kluger: No, but if we don't provide that competitive compensation, then we will have trouble. I would like to add that I think we currently have a highly dedicated and talented staff.
Drew McManus: How do you determine what a competitive compensation package is?
Joe Kluger: It's determined by market forces and comparing what others make in similar positions at other institutions.
The interview continued by asking Mr. Kluger about the impact cutting some positions while simultaneously offering raises to others had on the POA staff.
Drew McManus: Which administrative positions were eliminated and how did you decide which positions to cut?
Joe Kluger: The seven positions we eliminated were archivist, marketing and PR department assistant, education project manager, human resources assistant/receptionist, senior major gifts officer, volunteer liaison, and audition coordinator. We eliminated those positions because we're in a structural deficit. With those cuts, we are able to better maximize our revenue. At some point in this year we'll move toward reducing musician expenses by 10 percent as well.
Drew McManus: How did the cuts influence the staff's morale?
Joe Kluger: I don't know how people feel.
Drew McManus: Well then, as the senior executive, what have been your observations about the office morale?
Joe Kluger: I think there is a great deal of, [pause] I think we're all extremely upset by reducing staff positions.
Drew McManus: Were the salary increases enough to offset the decline in overall morale?
Joe Kluger: We gave salary increases to some staff members because it was the right thing to do, not so much to boost morale.
Drew McManus: So if the administrative expenses needed to be reduced by 10 percent, why give some raises and fire others, couldn't you have achieved the same financial result by simply not giving anyone a raise?
Joe Kluger: After we saved the 10 percent on staff expenses by eliminating those positions, we had enough funds available for the raises. But we could have achieved the same result if we had enacted pay freezes and only cut, maybe, 7 percent of positions instead of 10 percent.
After the interview it was difficult to fully comprehend the motivation behind the POA's decision to cut some positions and offer raises to others. If the budget is in such serious shape, then why not maximize the revenue even more by cutting the positions and not give anyone raises?
I presented this question to Mr. Kluger asking that and he graciously responded with the following:
Let me try to address one more time what I think is troubling you…..Our Board HR Committee and I decided that they should treat me this year in the same way that we planned to treat other staff and musicians .Because we are reducing expenses overall by 10 percent, we thought it was OK to provide a modest salary increase to those who remain (including me).

To address the concern that me taking a $10,000 raise would be a bad symbolic move, in light of the elimination of 10 percent of the positions on our staff, I decided to contribute 10 percent of my salary this year to a combination of our annual and endowment campaigns. Since this 10 percent contribution of $28,500 is almost three times the size of the raise, I think it is fair to say that this is an overall positive symbolic move.
Even with the additional insight, some may find it difficult to approve of accepting a personal raise without it simultaneously damaging morale and workplace effectiveness. Consider this:
Mr. Kluger's 10 percent donation to the orchestra is only because they are in financial trouble. So why take a raise at all on his part? He would actually save the orchestra more money by waiting until they have a balanced budget by reducing payroll taxes and eliminating the necessary man-hours to process the pay increase and donation. Would donors want to see the orchestra wasting money by providing symbolic gestures or would they want to see them saving the cash that I've donated?
Mr. Kluger receives a hefty tax deduction for his donation (which he acknowledged in our interview).
Many readers likely remember Lee Iacocca and what happened when he took over Chrysler. I think that situation would have been a much more appropriate model to follow at the POA than the path they've selected. For those who may not remember Iacocca's situation, here's the condensed overview:
Chrysler was heading for bankruptcy. When Lee Iacocca took over he saved hundreds of millions of dollars by demanding that virtually everyone at Chrysler work for less money. He cut his executives' salaries by ten percent, which had never happened before in the auto industry.
Then Iacocca had to deal with the auto union. He went to one of their meetings and delivered a short but sweet speech. He told them that he
had thousands of jobs available for $17/hour but none for $20/hour (which is what they were currently making).
He told them they had to decide that night if they would take the offer. If they didn't, he was filling for bankruptcy in the morning.
They union voted for the pay cut. Not because they were terrified of loosing their jobs or bullied by ultimatums, but because Iacocca also told them that he had already cut his own salary down to one dollar per year.
So when they had to vote for their own pay cut they hated it but they knew the man in charge of the organization's financial health had already made a much bigger sacrifice.
It hurt their bank accounts, but it didn't hurt their spirit or their pride.
Did Iacocca get rich running Chrysler and turn the company around? Undoubtedly, but he didn't do it by funding a pay raise for himself while increasing staff cuts. He didn't do it by offering a temporary "give back" that also enabled him to receive the benefits of a tax deduction. He didn't do it by creating a phony labor crisis that requires "competitive compensation."
To illustrate that last point, you should know that according to the American Symphony Orchestra League's careers website, approximately 470 arts administrators have resumes in their database yet there are approximately 90 jobs currently available.
Likewise, the "woe is me, I'm paid so much less than my counterparts" position Mr. Kluger purports may not go over well with stakeholders and donors  (as an aside; one of Mr. Kluger's conditions for doing the interview was that this point had to be mentioned).
In the end, the POA's attempt to justify an executive raise alongside substantial staff ad musician cuts may prove to be exactly the wrong thing to do. At the very least, it sends mixed messages at the wrong time and for the wrong reasons. It will be fascinating to see how this plays out in the coming years and whether or not the institution will adopt a different policy.