The 10/7/08 edition of MusicalAmerica.com published an article by Frank Cadenhead which reports that conductor Volker Hartung was convicted of "clandestine work" and sentenced him to three months in jail and a 10,000 Euros fine by a court in Strasbourg on 10/3/08. Long time Adaptistration readers will remember Hartung from a series of articles over 2005 and 2006 which chronicle Hartung's original arrest in France for violating French Labor Law by underpaying musicians…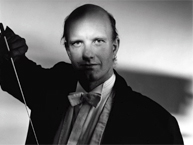 According to Cadenhead's article, the Strasbourg court concluded that Hartung had "fraudulent intentions" and "a logic of profit" in employing "foreign workers in unreasonable working conditions" and "avoiding social legislation." In spite of the conviction, Hartung's attorney maintained his compliance with European labor regulations.
Based on the attorney's statements, it appears Hartung's position has not changed since 2006 when he claimed his musicians were "well paid" and his arrest was the result of "some very jealous people, who try to turn the world opinion against [him] in order to force [him] from the market." Nevertheless, the Strasbourg court concluded otherwise. Since his original arrest, Hartung moved to Singapore where he reportedly serves as the Head, Orchestral Studies at the Nanyang Academy of Fine Arts.
In January, 2006 the series of articles about Hartung's criminal activity concluded by examining how this situation might apply to U.S. orchestras. It stated that forward thinking managers will be able to meet the challenges related to building a successful performing arts organization without exploiting musicians.
Recent labor disputes, such as the one at the Wisconsin Chamber Orchestra (WCO), make these issues more relevant than ever; especially for per service ensembles that do not designed to pay musicians an annual living wage. Reputable managers throughout organizations engaged (or soon to be engaged) in collective bargaining agreement negotiations will need to avoid appearing as though they are using the current national economic situation to exploit per service musicians.
Unfortunately, early signs from WCO executive administrators make it seem as though that is precisely what the organization is trying to do. In a WCO press release from 10/1/08, the organization responded to musician demands that the board agree to a contract which allows them the flexibility they need to earn a living wage with the following response:
"In light of today's economic challenges, our proposal is more than generous. To refuse this proposal is short sighted, and to make further demands is completely unrealistic."
Multiple requests to WCO executive director Doug Gerhart for further information about the above statement and other statements included in the press release have gone unanswered.
Read the original series of articles about Volker Hartung here: