Since next week features the 2009 Orchestra Website Reviews, it makes sense to fit in some time to examine the news out of Philadelphia about that orchestra's new chief administrator. According to statements made by Philadelphia Orchestra board chair, Richard B. Worley, Allison Vulgamore will be taking over as the executive administrator on or about February 1, 2010…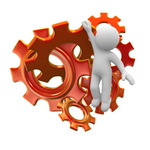 Dan Wakin at the New York Times wonders about events regarding the unsuccessful concert hall project from the end of Vulgamore's tenure at Atlanta that failed to raise even half of the intended funds. Over at the Philadelphia Inquirer, Peter Dobrin reports that Vulgamore thinks the Philadelphia Orchestra is "fiscally more challenged than [she's] seen any orchestra be."
That's a curious statement without additional qualifications in light of the fact that a number orchestras over the past several years have either gone out of business or made sizeable cuts in artistic activity due to economic problems. It seems more likely that this comment is referencing something more along the lines of the orchestra's projected economic situation.
Vulgamore also hinted about what is in store regarding labor relations.
"We need to have a creative governance that aligns the board and the musicians and staff around a common focus going forward."
Unless this quote is misrepresenting Vulgamore's intent, it seems to imply that the organization's stakeholders are not currently focused and the current model of governance is not creative and therefore inadequate. If you're as anxious as I am to find out more of what's in store to correct these perceived problems, February 1st can't get here soon enough.
Until then, any guesses?