When it started out in 2003, I have to admit that LinkedIn wasn't very appealing. In fact, I don't even remember when I created a profile but I do know that I never started paying attention to it until recently. Before then, LinkedIn was just another social network focusing on increasing professional connections. The interface was a bit clunky, not very intuitive, and editing tasks seemed to take much more time than they should. Fortunately, they've made great strides since then…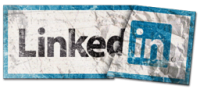 Editing profiles requires less clicks and it's a little easier to make connections. Although it isn't quite as simple to send out connection invitations to just anyone, like it is at Facebook, that's not exactly a bad thing. In fact, it gives the service a much higher degree of professionalism than other social networking sites.
At the same time, having the ability to tie your LinkedIn account with other social networking sites, like Twitter, and post links to online articles you find useful added a much needed dynamic content conduit for the service.
LinkedIn offers free basic accounts along with several tiers of paid business account membership and even though I can see a use for some of those premium services, the vast majority of users should be able to get by with a free account. Creating an account isn't something you should drop everything to do this moment but you should look into it by the end of the week if you're even remotely interested.
Once your account is up and running, reach out and make a connection and for those of you who are already on LinkedIn, send an invite right now.