Apparently, it is possible to be in more than one place at the same time. At least, virtually. Yesterday's edition of culture.wnyc.org published an article by Marlon Bishop that examines the move by Graham Parker, currently the exec of the Orpheus Chamber Ensemble, over to lead WQXR that included some of my quotes. On the same day, sfcv.org published an article by Janos Gereben that references the 2010 Compensation Reports…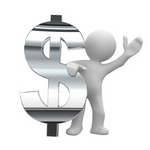 In addition to my quotes, Bishop's article includes additional insight from the extra large brains of culture gurus Jeremy Denk and Frank Oteri (hey, both have been Take A Friend To The Orchestra contributors). The move from executive orchestra management to the radio side of the business will be fascinating to watch.
Over at San Francisco Classical Voice, Gereben not only pours over the relationship between music director, base musician, and total expenditures as reported in the latest round of Orchestra Compensation Reports, published here at the beginning of the month. While you're there, make sure you keep reading down the page to the entry with the headline Early Betting Line on MTT Succession where Gereben has some "what-if" style fun with fellow SFCV.org writer (blogger extraordinaire and Take A Friend To The Orchestra contributor) Lisa Hirsch.