It's going to be a busy fall here at Adaptistration. The annual website reviews are coming up at the end of the month and since we're living in "interesting times," there are no shortages of topics to cover until then. With that in mind and in keeping with the Labor Day holiday, yesterday's Who's Minding The Score? cartoon reminds us that yes, you can find humor in work stoppages…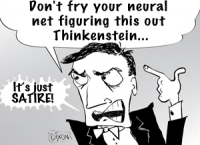 If you aren't already familiar with Who's Minding The Score?, why not!?! Its popularity has soared since it was launched at the beginning of 2010 to the point where on publication days, it far exceeds regular average blog traffic. Although, it has a story line that evolves chronologically, each individual installment is a gem (albeit some brighter than others) but hey, if you disagree (you won't) there's a star rating tool for each strip.
So what are you waiting for? Head over and find out what's so funny about labor strife (yeah, there's an app for that).