Two articles worth looking into came out last week that touched on what will almost certainly become an increasing flashpoint of attention in coming months: executive compensation. First up is Peter Dobrin's article in the 6/9/2011 edition of the Philadelphia Inquirer that takes a long look at recently released compensation figures for Philadelphia Orchestra Association (POA) CEO Allison B. Vulgamore…
What's worth noting is that following the release of Vulgamore's compensation figures, which confirm a 33.27 percent increase over her immediate predecessor, is although Vulgamore declined to talk to Dobrin about the matter, POA board chair Richard B. Worley did. According to Dobrin's report, Worley went on the defense by playing down those increases; and in fact, attempted to make Vulgamore's compensation package appear on par with the cuts the POA is presenting to musicians at the bargaining table.
Worley said Vulgamore's estimated 20 percent lower-than-potential compensation was meant to mirror the percentage of the cuts musicians were being asked to accept.

"When she informed us that she wouldn't accept the $25,000 salary increase guaranteed in her contract, I was impressed. Additionally, she told us that she would decline the variable compensation that her contract entitled her to. All told, this is approximately 20 percent less than her contract calls for. Her commitment to the orchestra is clear and I am delighted to have her as our leader."
Worley's magnanimous portrayal might ring hollow with some in an age where simply foregoing a series of planned raises and perks over and above a previous double-digit pay increase while the institution is amidst bankruptcy may not have the Iacocca style impact the chairman was looking for.
The other article you should take a moment to read is a commentary piece from David Zoltan at Arts Appeal who wrote about the Detroit Symphony Orchestra's decision to extend President Anne Parson's contract for an additional three years. In case you missed that news, the highlights include that the decision was made by the DSO board in late march, before the strike concluded. Moreover, little information was released about Parson's expected compensation and the organization did not provide details about a bevy of extensive perks that go above and beyond what executives in larger budget orchestras receive.
Zoltan speculates on how the board's decision, and Parson's acceptance of those terms, will impact the institution from the perspective of loyalty.
This move shows a complete lack of leadership on Parsons' part, and in the aftermath of the strike, she needs to be rebuilding loyalty if the rest of her programming has a real chance to help rebuild the audience base and expand into new audiences. She needs willing and enthusiastic collaboration with the musicians that decide to stick it out.

Let's assume for a moment that her salary is deserved for those "deep connections within the national funding community" among other things. Fundraising is going to be a critical part of rebuilding the orchestra's position in Detroit and the world stage. There's still a chance for her to lead here, to make a very substantial commitment to the orchestra and its musicians.

So I call on Parsons to donate 23% of her salary back to the orchestra as long as the musicians also must sacrifice for the health of the organization. Parsons is already a donor, as I'd hope all arts managers would be to the organizations they love and support, but at a more modest 3-7% level according to the article.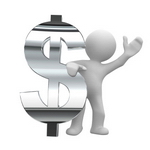 Given the Detroit backdrop, the Iacocca analogy comes to mind again and as that bit of history demonstrated, legitimacy is achieved by recognizing the difference between effort and achievement. Iacocca's story went on to the history we know today while his counterparts at the time, particularly Roger Smith at General motors, attempted to mirror his tactics by taking token pay cuts while pressuring everyone else in the organization to take massive cuts. It's worth noting that Roger Smith is the idee fixe (not to mention butt of the joke) in Michael Moore's documentary Roger and Me.
Zoltan's piece made me recall a passage I read years ago, long before the 9/11 recession, that might apply to the situation in Detroit and Philly (I apologize in advance for failing to recount the source): To acquire legitimacy, you must stand for something. And that something has to be more than just your own self-interest. You must stand for principles, ideas, and the needs of others.
Ultimately, an accomplished executive capable of managing debt during troublesome times, maintaining respectful labor relations, and reinforcing institutional vision is worth every cent. On that note, I want to remind everyone that the 2011 Orchestra Compensation Reports come out all next week.