No, this isn't an official installment in the 2011 Orchestra Website Reviews, instead, it's a recap of the Your Website is Ugly! session from the National Arts Marketing Project Conference (#NAMPC) in Louisville on the benefits of open source software and how it's changing the business of web development. But I wanted to take some time to examine a few additional items that didn't make it into the session.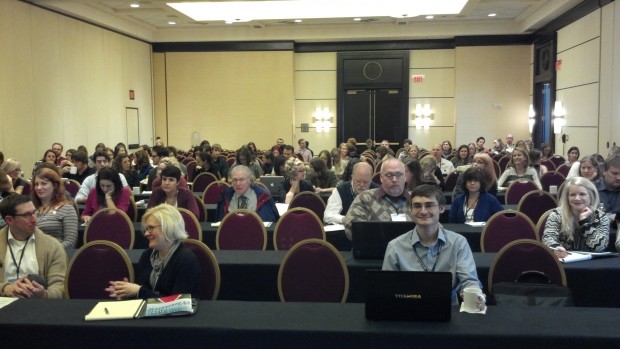 Overall, the session was a real hit with attendees and I'm grateful to have had the opportunity to work with Ceci Dadisman, Kimberly Clark, and David Dombrosky The four of us covered a great deal of ground and you can find all of our respective PowerPoint presentation slides at the conference website (thank you Americans for the Arts!):
We had a terrific turnout of very inquisitive attendees, most of which were loaded with questions and I don't think we lost anyone once the session started. There was a marvelous Twitter discussion going on via #uglywebsites but unfortunately, and at the time this article was published, Twitter seems to have banished the entire thread to hashtag purgatory as it is nowhere to be found. It's a real shame as it provided a very good overview of what we discussed alongside unfiltered attendee reaction.
The Open Source Review
Just to make sure we're all on the same page with regard to understanding what open source is, here's a good working definition from opensource.org:
Open source is a development method for software that harnesses the power of distributed peer review and transparency of process. The promise of open source is better quality, higher reliability, more flexibility, lower cost, and an end to predatory vendor lock-in.

Be sure to check out David Dombrosky's handout for a review of the open source options we covered in the session but for the most part, WordPress emerged as the clear favorite among panelists, including me, and a number of attendees.
Two Quick Definitions
In order to make a good bit of the following info easier to understand, it will help if you know the difference between your website's frontend and backend:
Frontend: this is the part of your website that end users, i.e. visitors, interact.
Backend: This is the interface used to create and manage content; typically accomplished in most contemporary systems via a content management system.
What Open Source Can Do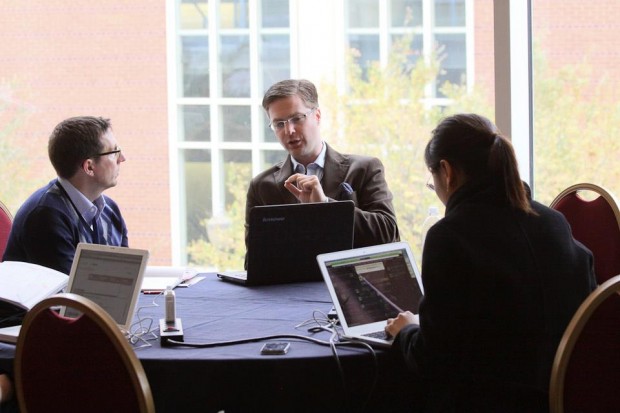 Although this section deserves an entire series of articles, we're going to look at some of the most important benefits and keep it short and sweet (which means list form).
Most come with a content management systems (CMS) allow users to create and edit basic content through a point and click interface (meaning, you don't need to know HTML or any other sort of code). Some content management systems are better than others while certain open source platforms strive to refine the CMS to the point where the point and click interface allows users to accomplish increasingly complex tasks.
They're free! That's undoubtedly a good thing but you still have to pay for hosting, know how to install it, set it up, and learn how to use it, which brings us to the next point.
There are a growing number of professionals out there who specialize in open source programming to help you get more out the platform you select. Having said that, they rarely have any expertise or understanding of issues unique to PAOs so don't expect them to provide anything beyond technical support (and be prepared to spend extra time, and therefore money, to get past the miscommunication curve).
They're extensible; meaning they play nice with other software programs. Granted, some platforms do this much better than others but they all pretty much have some sort of modular plugin or add-on capability.
What Open Source Can't Do
Even with the substantial improvements over the past year in both free and premium theme CMS admin panels mentioned above, the one thing performing arts organizations (PAO) will still have difficulty dealing with is event management. Granted, this is the very same area where most custom tailored solutions fail but it's fair to point out that open source is not going to make this task any easier.
Case in point, a number of the US and Canadian orchestras in the 2011 Orchestra Website Review which built their sites atop open source racked up low scores in sub categories which examined event management issues, such as event index pages (calendars and lists), event details pages, landing page event persuasion triggers, etc.
This happened even though most of those organizations used some sort of existing event management plugin solution (the reviews turned up both free and fee based solutions). But this wasn't because those solutions aren't any good; rather, they aren't designed to accommodate the very unique sets of requirements that accompany POA event management and display.
Keeping with the short and sweet motif, here are a few content management and design points related to event management that you need to walk away with to help understand why this is such an issue (especially when talking to any developer about this issue):
Multiple occurrences of the same event on non-sequential days and times.
PAO events don't have fixed end times for most events.
Many PAOs don't control which box office solution they have to use.
Automatic sync of event management info throughout various areas of the site along with unique event index display needs.
What ends up happening more often than not for groups that use open source solutions with an inadequate event management system is they trade one set of traditional problems (for example, lack of direct content management) for a set of new problems (an event management system that creates more work than it was intended to solve) all of which lead to a place where managing your website content becomes a major pain in the neck.
To provide some frame of reference as to how big of a deal all of this is, consider this: designing and programming the Venture Platform's event management component comprised the lion's share of resources (both time and treasure). Likewise, it comprises the bulk of regular updates and maintenance work in order to follow through on a system that only requires users to create/edit event information with point and click simplicity from a single admin panel that can sync all of the respective data with all frontend uses, such as index and event details pages, calendars, upcoming events widgets, etc.
In the end, event management is an enormous task and there's no simple solution out there in open source land that can turn it into a simple task (avoid the temptation to use any of the existing free or fee based plugins and add-ons).
Why Open Source Matters
During the Your Website is Ugly! session, I took a moment to impart to the attendees why open source not only matters but why we were making such a big deal out of it. In short, the impact of open source on the development community is nothing short of the impact Henry Ford's assembly line had on the automotive industry.
Think of it like this; the workers used by Ford had to maintain very specific skill sets which were just as valuable on the assembly line as they were in the previous model. Programmers and designers of today are no different; their hourly costs are no different when using open source but since open source provides a platform (i.e. the assembly line component) that reduces a considerable amount of time in the overall development process, this should have a substantial impact on lowering overall development costs.
PAOs should benefit by getting a much bigger bang for their buck (although they do need to be on guard against emerging predatory practices). What's exciting in all of this is we're only in the heady beginning stages and we have yet to see just how much impact all of this is going to have on how PAOs interact with their audiences, improve administrative efficiency, and increase marketing performance.
As for now, expect to hear some contradictory advice coming from various voices within the development community, especially when you begin collecting proposals for your website development projects.
Conclusions
Open source is terrific. Period. It's a powerful platform that can provide a stable foundation to build just about anything you need. Only the largest of budget groups with extremely unique requirements will need to look at solutions that aren't built on top of open source (although that gap is narrowing on a monthly basis as open source continues to evolve).
Every POA should consider using open source regardless of whether you need custom development and/or outside technical support and training. So if you want to reduce the likelihood of producing an ugly website (frontend and backend) while retaining your unique branded identity, then open source is a comparatively low risk investment. the only real drawback is the lack of acceptable event management tools (but the same is true for custom designed solutions so there's no added value by going in that direction).
We'll begin diving into some of these issues in greater detail in subsequent articles but in the meantime, send in your open source questions and I'll provide the answers. Keep in mind everyone approaches these issues from different points in the learning curve so there really is no such thing as a stupid question; likewise, feel free to revel in geek-speak and technical minutia. Either way, don't be shy!