Since the Proceedings of the National Academy of Sciences published a paper titled Player preferences among new and old violins which chronicles their experiment during the Violin Competition of Indianapolis from September, 2010 the results have received a good bit of attention. Initial reactions were mostly positive but that ended up being short-lived honeymoon.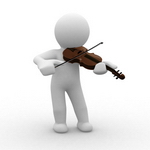 Over the last few weeks, a number of prominent voices inside the violin and culture blogging communities have been pointing out that the Emperor Has No Clothes in numerous areas where the study seems to come up short on its scientific methodology.
One of those is Milwaukee Symphony Orchestra concertmaster Frank Almond who authors the culture blog non divisi. Almond published an article on 1/9/2012 that blasts a number of holes in the experiment and subsequent report. His points caught the attention of one of the paper's authors, Claudia Fritz, who submitted a comment taking issue with Almond's observations. In turn, Almond posted a second article which responds to Fritz's issues.
Next up is violinist Laurie Niles who is also the founder of violinist.com. Niles, who participated in the 2010 experiment, published an extensive article on 1/7/2012 detailing her experience. It's loaded with all sorts of violin geek goodies but you don't have to be a player to get a lot out of her post. In general, she observes many of the same issues Almond addresses in his post.
Lastly, The Strad editor Ariane Todes, who also participated in the 2010 experiment, wades in with her own article on 1/5/2012. Although clothed in oh-so-polite UK literary warmth, she ultimately suggests that "It's a stretch to get to the myth-busting generalisation that violinists can't tell a Strad from a modern instrument. There are too many philosophical issues and variables to be definitive about that." At the same time, she remains open to the notion that preconceptions made be more artificial than not.
Ultimately, intent, process, and more can quickly become mired in an entanglement of subjectivity and ignorance. The point, beyond melodrama, is that wading into the field of valuation and preference of rare or contemporary string instruments is a dangerous business.
It isn't quantifiable in a cut and dry fashion (not even close).
These instruments aren't commodities.
And rushing in to leverage any position, regardless the desired outcomes, can lead to very unhappy conclusions unless you have a great deal of time, experience, and broad based buy-in from various constituencies. The Axelrod/Machold scandal at the New Jersey Symphony Orchestra should be proof enough that the land of string instrument valuation (rare and contemporary alike) is territory where angels fear to tread.
Even with science as your compass.