The 9/8/2012 edition of the Minneapolis Star Tribune published an article by Graydon Royce that examines the ongoing labor dispute at the Minnesota Orchestra (MO) and of particular interest is a quote from Richard Davis, the MO former board chair who is currently leading the management's negotiation team. According to Davis, there are only two kinds of American Orchestras: those that have gone through painful restructuring, and those that are going to go through it. Pretty cheery, huh?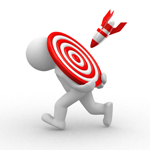 So, all of the orchestras out there who have yet to fall into either of the Davis' groups should enter the Carrousel.
But in case you feel like running, check out WQXR's Conducting Business podcast hosted by Naomi Lewin and produced by Brian Wise where I'll be joining Graydon Royce along with an undisclosed guest (s/he has not yet been confirmed) to discuss the state of American orchestras. The show is scheduled to be recorded on Friday, 9/14/2012 and should be available for streaming shortly thereafter.
In the meantime, what do you think about Davis' assertion that orchestras are all doomed to sizeable downsizing?