I'm off to Germany for some James Bond style client work today and won't be back until Saturday. Although there are plenty of new articles ready to go over the next few days, my travel schedule prohibits the sort of Johnny-on-the-spot coverage you're used to when something big develops in the Season of Discontent.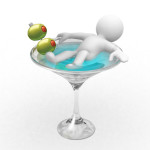 However, if the gods of travel are smiling on me and there is in-flight Wi-Fi then I may be able to stay on top of things and supplant any scheduled content with breaking news. Granted, I'm traveling uber-light thanks to the breakneck schedule and I'll only have my iPad so don't expect any fancy charts or graphs.
How breakneck is it?
Wed:
ORD>LAX; 4h:32m
Report to Q branch for mission specific equipment then meet with M and Moneypenny for final briefing.
Thurs:
LAX>FRT; 10hr:55m direct flight
FRA>HAM; approx 4h train trip
Conduct business and engage marzipan purchase.
HAM>FRA; return 4h train trip
Somewhere amidst all of this, my wife will be out enjoying the opening night of Skyfall.
Fri/Sat:
FRA>PHL>ORD 11h:37m:
If everything goes according to plan, celebrate operational success by smuggling post-mission marzipan into the final evening's showing of Skyfall at local theater with my very own Bond girl.
Granted, these are all very much #firstworldproblems and, thankfully, there is plenty of marzipan involved but I do hope to able to write about all of it one day. It's all genuinely fascinating stuff when you get right down to it but for now, non disclosure statements compel discretion. If and when that changes, you'll be the first to know.
In
Die Another Day
, Bond is coming back on a rather turbulent British Airways flight. The air hostess (played by Roger Moore's daughter Deborah) serves him his martini, to which Bond replies "Luckily I asked for it shaken".