Many thanks to a regular reader who pointed out several posts reporting on a domain name registration fail by celebrity chef Guy Fieri, who apparently neglected to register guysamericankitchenandbar.com for his new Times Square 500 seat restaurant Guy's American Kitchen & Bar.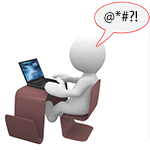 As a result, it was purchased up by someone with a robust sense of humor who published a satirical menu poking more than a bit of fun at the chef's culinary sensibilities.
It made me think back to the early days of the Orchestra Website Reviews when I discovered that more than a dozen orchestras did not own the .org extension for the most rational incarnation of their name; for example, one shouldn't be hard pressed to assume that seattlesymphony.org will take you to the homepage for the Seattle Symphony Orchestra (whew, it does!).
At that time, 2005, I picked up the domain names in order to keep them out of the hands of squatters and funnel them to the rightful owners.
Out of a sense of nostalgia, I went back to that original list to see if everyone still owned their domain name. Certainly, I thought to myself, everyone on the list must own their domain name by now (save the one group that has sense gone out of business).
Gahhh! Nine out of 14 not only didn't own the .org extension of their full name but several didn't even own the .com extension!
Kudos to those from the list who do own their domain names but I'm not going to play the role of Lord Protector of orchestra domain names this time around. Instead, I'm going to leave them up for grabs.
To be clear, I only checked the permutations on the original list from 2005 and I recall that all but a few picked the names up shortly after that point in time. I officially let the remaining stragglers go after the initial year's registration expired but who knows what else is out there; frankly, it is amazing that squatters haven't picked those names up yet.
So now it's a race, and this time around, I'm content with spectating.
Do Yourself A Favor
Even if your group isn't one of the orchestras from the 2005 list, take some time today and double check that your organization owns as many of the obvious domain name permutations for your ensemble as possible (and don't forget to check branded artistic efforts etc.).
And if you want to search for the domain name, avoid unscrupulous registrars such as networksolutions.com.