On 2/13/2013, the Indianapolis Symphony Orchestra (ISO) appointed Gary Ginstling as the organization's new CEO. Ginstling will begin next month and by that point in time, the ISO will have been without a formal CEO for just over one year, following what some might describe as a less than ceremonious departure by Simon Crookall.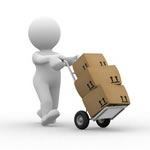 Ginstling is currently the General Manager of the Cleveland Orchestra and prior to that, he served as director of communications and external affairs for the San Francisco Symphony. It was during his time with San Francisco that Ginstling authored a terrific contribution for the 2008 Take A Friend To The Orchestra initiative.
At that point in time, Ginstling was one of the initial folks in the field to begin recognizing the value of reaching out to new media and organized official blogger's night concert events.
The 2/13/2013 edition of the Indianapolis Star published an article by Shari Rudavsky that provides a good bit of additional detail about the appointment, Ginstling's history, and where the ISO is right now from an institutional perspective.
In that article, Rudavsky quotes me as saying that the ISO gig is one of the most challenging positions in the business right now; and it is, but I'm glad to see Ginstling move into the position and will be very anxious to see how things begin to unfold after he hits the ground running next month.