I'm en route today to Milwaukee for the 2016 Arts Midwest conference (@ArtsMidwest) where I'll be taking part in the Click. Click. Done. Developing Your Google Analytics Skills pre-conference session on Tuesday, 9/13/2016. Joining me on the panel are two colleagues I am always thrilled to work with: Ceci Dadisman and Marc van Bree.
The session has already generated a great deal of interest and they are allowing attendees to sign up through today or until all of the spots are filled.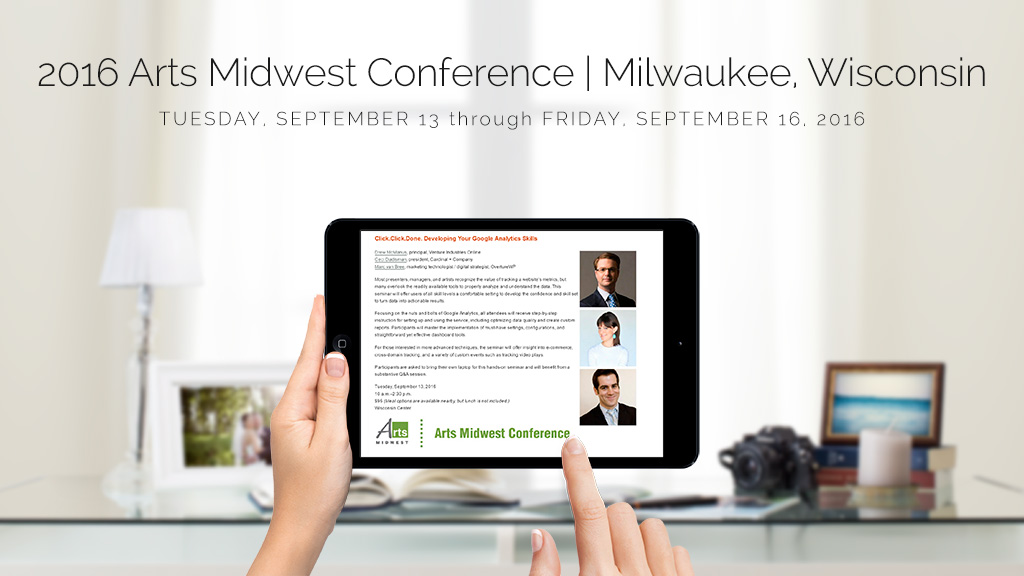 If you're attending the conference please be in touch to say hello, talk shop, or schedule a time to chat about The Venture Platform or Schedule Fusion. For any group interested in becoming a Venture user, be sure to ask about a special incentive just for those attending the @ArtsMidwest conference.
I'll be in Milwaukee through the evening of Wednesday, 9/14/2016 and you can connect with me via any of the following:
Text: 708.990.0408 (texting is better than calling as the conferences are usually pretty loud and cell reception can be spotty)
Email: drew@VentureIndustriesOnline.com
Twitter: @VentureTweets or @Adaptistration
One advantage of having the entire panel serve as authors at ArtsHacker is even if you're not able to attend, you can still benefit from what we're preparing thanks to a special series of Google Analytics oriented articles we've been publishing over the past week. It won't be nearly the same as being at the session in person but we do everything we can to share the knowledge!