I'm excited to announce that I'll be leading an in-depth seminar at the 2016 Arts Midwest Conference in Milwaukee on Tuesday, September 13, 2016. Titled Click. Click. Done. Developing Your Google Analytics Skills, the seminar will offer users of all skill levels a comfortable setting to develop the confidence and skill set to turn data into actionable results.
Joining me on the panel are a pair of GA rock stars: Ceci Dadisman and Marc van Bree; and if this feels a bit like déjà vu, don't worry, it's not you.
Regular readers probably recall a similar conference session in the fall of 2015 for the National Arts Marketing Project Conference. This seminar is an extended version; it's bigger, better, more in-depth, and has been tooled to be equally useful for presenters, managers, and artists alike.
Designed especially for the conference's professional development track, the biggest improvements from the fall session is this seminar lasts from 10:00am through 2:30pm with a break for lunch. It's a wonderful treat to have enough time to not only cover the material but really dig down into attendee questions and their specific user scenarios.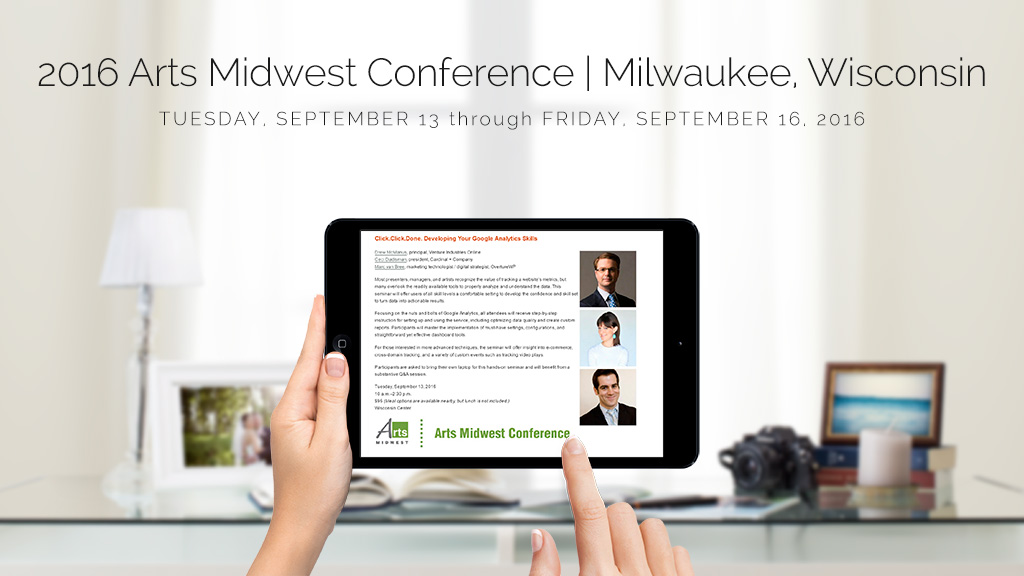 Here's the official seminar overview:
Most presenters, managers, and artists recognize the value of tracking a website's metrics, but many overlook the readily available tools to properly analyze and understand the data.

Focusing on the nuts and bolts of Google Analytics, all attendees will receive step-by-step instruction for setting up and using the service, including optimizing data quality and create custom reports. Participants will master the implementation of must-have settings, configurations, and straightforward yet effective dashboard tools.

For those interested in more advanced techniques, the seminar will offer insight into e-commerce, cross-domain tracking, and a variety of custom events such as tracking video plays.

Participants are asked to bring their own laptop for this hands-on seminar and will benefit from a substantive Q&A session.
REGISTER
CONFERENCE HOMEPAGE
SEMINAR OVERVIEW
But Wait, There's More…
When the folks at Arts Midwest asked for a promotional video, I was thrilled! It's something I haven't done for previous conference appearances but seems completely obvious in hindsight. As a result, it was time to bust out Adobe After Effects and put together something fun!