There's a new hotel in London that's garnering its fair share of press in that it offers affordable rooms and caters exclusively toward visiting artists (fine arts, music, theater, dance, etc.). Green Rooms is a 20 room not-for-profit hotel with adjoining space geared to artist needs (think rehearsal space, practice rooms, etc.) and the real kicker is the subsidized price means rooms begin at US$26 per night.
Arts districts, which often offer tax incentives and special zoning for artist residences and businesses, certainly aren't a new concept but something like a dedicated artist focused hotel is surprisingly cutting edge. I say surprisingly because I assumed the idea existed elsewhere but a Google search for a similar hotel here in the US turned up zero results.
There are plenty of hotels with resident artists and some that serve as a combination hotel/gallery but nothing geared toward providing affordable rooms for working artists (if you know of one, please take the time to leave some info in the comments).
Long Tail Need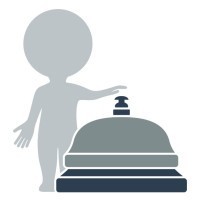 It's easy to forget that the majority of patrons in the US attending live orchestra concerts do so cumulatively at orchestras which pay musicians anywhere from far below to just barely a living wage.
As a result, a number of musicians travel long distances to perform with multiple orchestras in order to earn a living and end up staying overnight for one or more evenings during any given series. Some organizations provide housing in the form of space from volunteers, subsidized hotel rooms, or simply shelling out for rack rate while others offload those expenses onto the musicians.
One way or another, there's a cost in time and treasure and it is often a point of contention between employer and musician employees during negotiations.
Consequently, it would be fascinating to see how a chain of nonprofit or L3C micro hotels could impact not only orchestras in the small to mid-budget size range, but all arts orgs that routinely import artists.
Once again, this could be another wonderful foundation project. In the meantime, it will be interesting to see how Green Rooms fares after its first year of operation. In fact, there's a note in my schedule to reach out in May, 2017 in order to find out more.
In the meantime, be sure to visit their press page in order to learn more about how they brought their idea to fruition.