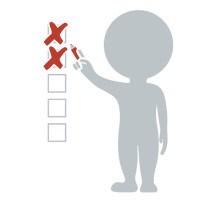 According to an article by Christopher Hooton in the 1/23/17 edition of The Independent and later expanded on by Jillian Steinhauer in an article at Hyperallergic.com, petitions requesting that the National Endowment for the Arts (NEA) and the National Endowment for the Humanities (NEH) at the WEthePEOPLE White House petition site are not properly registering signatures.
Steinhauer ran her own tests and based on those results, it does appear that the petitions are not properly registering signatures.
And in the spirit of troubleshooting, the first step in determining if there is a problem is to see if it can be recreated.
I attempted to sign both petitions, here's what happened.
I started with the petition that showed 1,323 of signatures.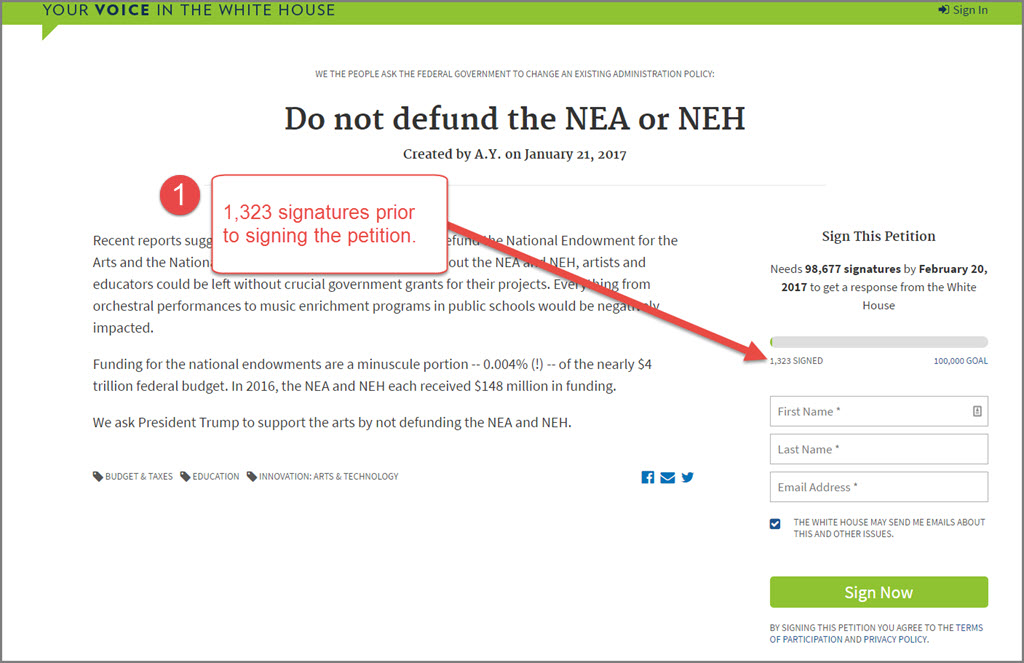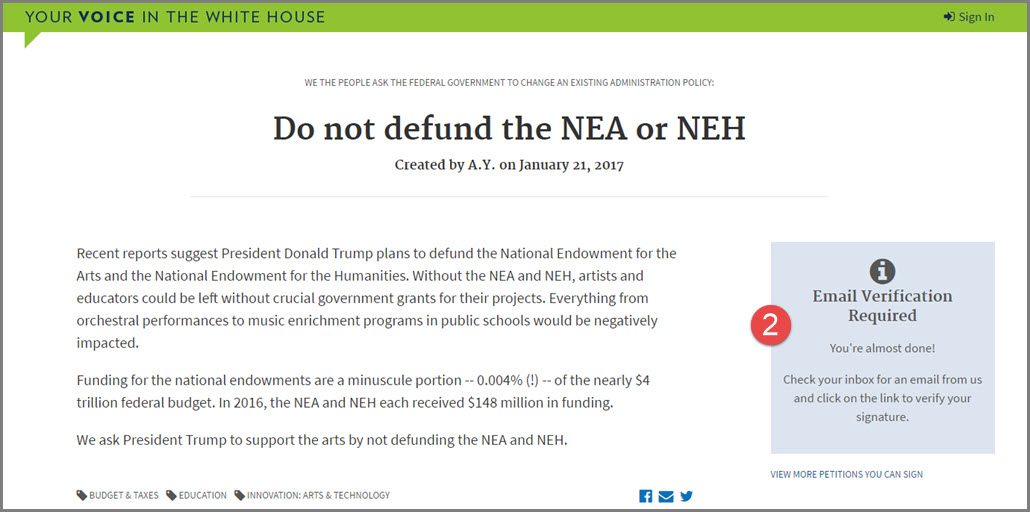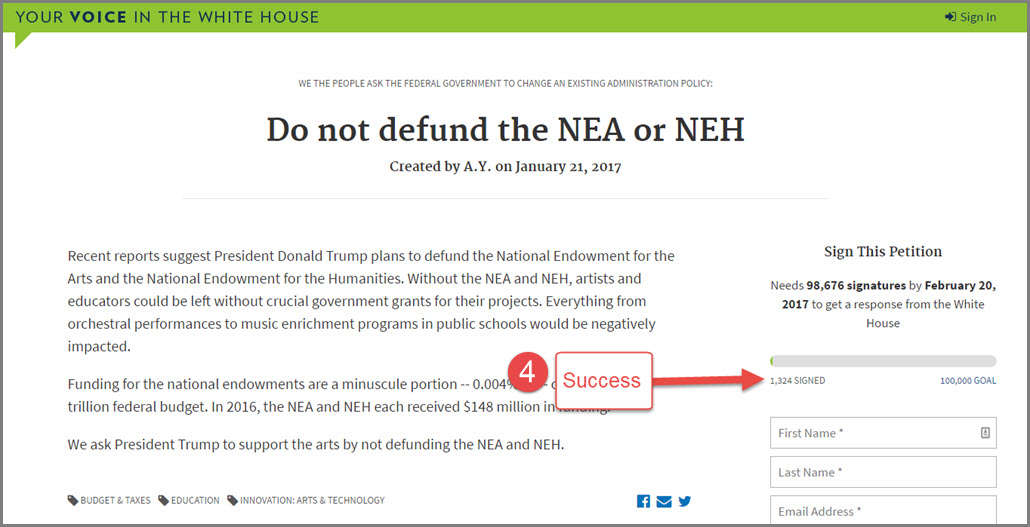 Hold the happiness…
Although the test on the first petition went as expected, the second petition produced results similar to what Steinhauer generated.
The process went along in similar fashion to the other petition but after verifying, the signatory count remained unchanged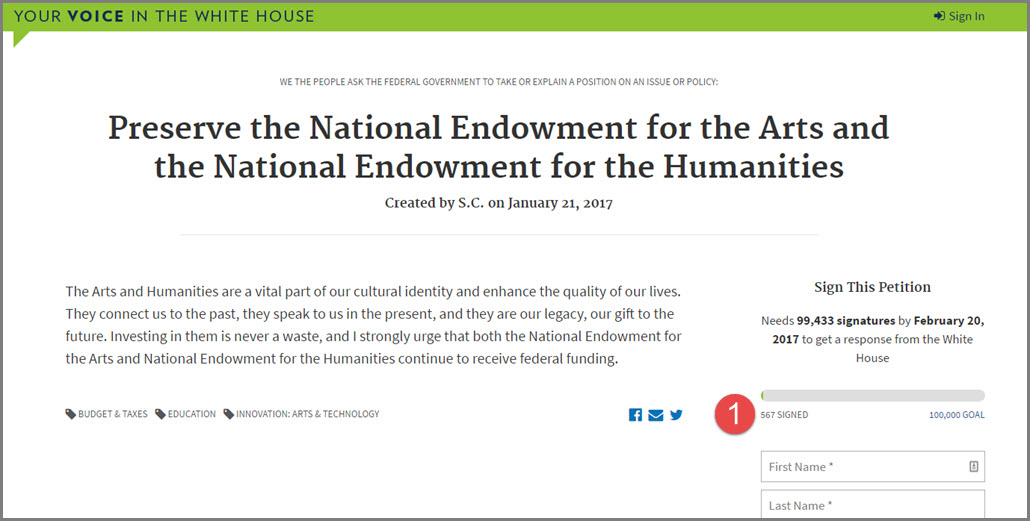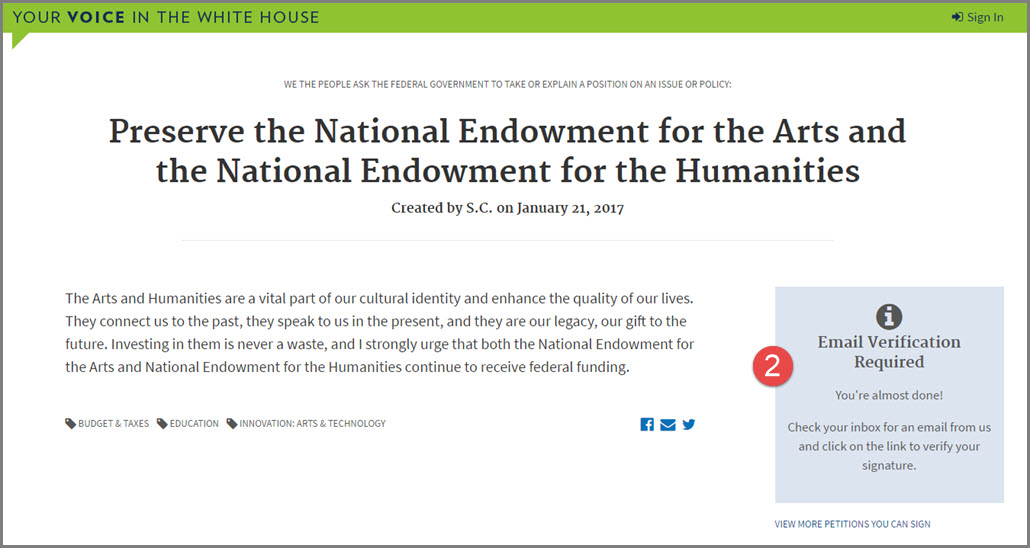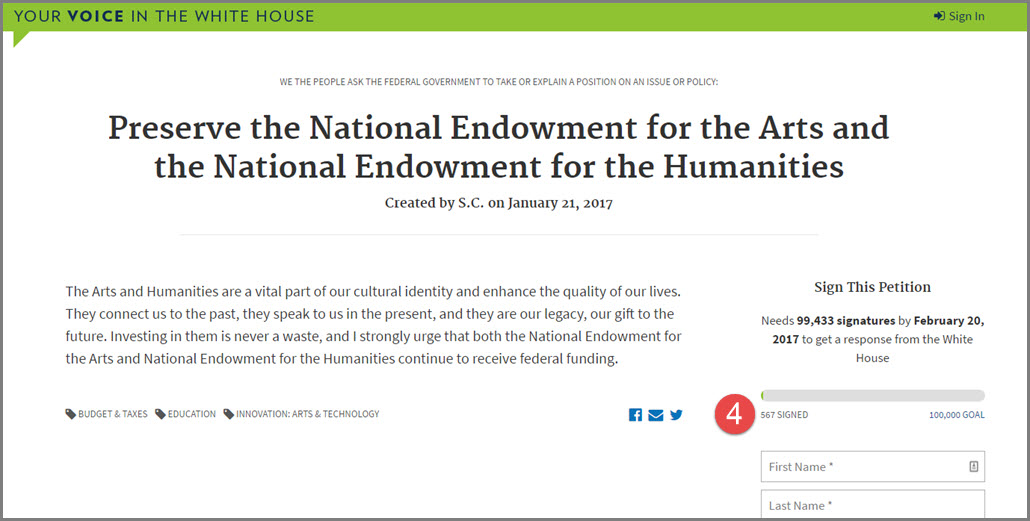 In short, these tests produced inconclusive results and a need for additional troubleshooting.
If signatures are being recorded but not displayed, the most likely culprit is some sort of caching going on either via the website's server, a content delivery network, or the user's browser.
For my tests, the latter can be ruled out as each process used an uncached browser for the final verification process.
If this were a straightforward caching issue, then the outcome would likely be the same for both petitions but since each test produced different results, there is reason to assume additional testing is necessary to determine whether or not signatures are being recorded or left out.
If it turns out they are being left out, that invites a brand-new set of entirely valid questions an administration which is already being hammered over its "alternative facts" fiasco may not wish to answer.
Either way, let's apply an open-source approach and crowd source the troubleshooting process. Take some time today to visit and sign both petitions. When you do:
Take note of the existing count (screencaps are always best).
Be sure to complete the email verification as soon as it comes in.
Note how much time passes between signing the petition and when the verification email arrives (in both of my tests, it arrives within 15 seconds of submission).
Be sure to visit the original petition page after verifying to see if the signature counter has changed
Tip: be sure to refresh the page and try clearing your browser cache and/or cookies if the value is unchanged. If the value still has not changed, there's likely a problem.
I encourage everyone to leave a comment below or get in touch via email with your results.
Petition #1
Petition #2