There's a study in PR crisis management unfolding in real-time via the Oregon Bach Festival's (OBF) decision to terminate artistic director, Matthew Halls. If you haven't been following the details, here's what you need to know:
In June, 2017, the OBF completed a contract extension with Halls through the 2020 season.
Barely two months later on Aug 27, OBF issues a press statement announcing Halls was leaving the organization because the group decided to move in what they described as "an exciting direction" that no longer required Halls nor the artistic director position in general. Instead, they were adopting a "curator" model, which OBF described as something similar to what Ojai Music Festival employs.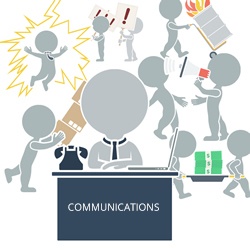 If that seems odd, good; your instincts are right where they should be.
The Aug 31, 2017 edition of EugeneWeekly.com published an article that included a letter written by Ojai Music Festival, Thomas Morris, to University of Oregon (UO) President Michael Schill (OBF operates as part of the university), and OBF board chair Brad Stangeland. Morris took issue with OBF's association; by taking issue, I mean he outright eviscerated their assertions:
""What concerns me greatly is your willingness to embrace the variability of annual curators without at the same time insisting on the need for strong, visionary and accountable artistic continuity at the same time. With all due respect, that is not something that can be provided by 'administrative leadership or the University of Oregon'. How tragic if your distinguished festival morphed into a mere series of concerts without continuity, focus or profile."
The Sep 9, 2017 edition of The Telegraph published an article that reported Halls' dismissal was potentially connected to comments he made to an African American colleague. The alleged remark, which the OBF and university determined were discriminatory, was overheard by an unnamed Caucasian woman and the colleague Halls was talking to at the time was countertenor Reginald Mobley.
Let that sink in. This is not the sort of assertion made lightly. Doing so without solid, irrefutable evidence is the sort of place angels fear to tread.
It's worth pointing out that Mobley and Halls have been colleagues and friends for a number of years and the singer went on record for The Telegraph article to discount any assertion that Halls made discriminatory remarks. Moreover, he insisted that Halls was being maltreated; especially since neither the university nor the OBF ever contacted him to verify the allegations (the Telegraph article contains Mobley's detailed account of the remarks).
"He has been victimised and I'm very upset about it… [Hall's remark] has been entirely taken out of context."
On the same day, Sep 9, The Register-Guard published an article that includes a copy of Hall's termination letter, dated Aug 24, 2017 and written by UO Senior Vice Provost for Academic Affairs, Douglas Blandy. The letter does not include any specific reason(s) for the termination decision thanks to a clause in his agreement that allows the UO to terminate such agreements without cause provided 30 days notice are provided.
On Sep 11, The Register-Guard published a follow-up article where a UO spokesperson, Tobin Klinger, attempted to wrestle control over the situation by cutting off fuel to the Mobley connection. He stated the UO's decision to terminate Halls' contract had nothing to do with the Mobley conversation and The Telegraph's assertion to the contrary is "incorrect."
Since then, the story has been snowballing. All the usual culture news outlets have been weighing-in and/or aggregating reports.
UPDATE: The Register-Guard published an editorial on Sep 12, 2017 that calls on UO and OBF to provide a more detailed explanation for Halls' dismissal if in fact, the Mobley incident was inconsequential.
Whether any continued public examination continues will depend on how Halls decides to proceed.
Given Mobley's published statements and the UO's subsequent repudiation, it's difficult to ignore the highly irregular decision to end a three-year contract extension merely two months after inking the deal. At this point in the process, the OBF/UO is one investigative report away from being tagged with "beleaguered" status.
If nothing else, the situation has been a fascinating study on crisis management and even if that were the only reason to continue paying attention (not by a long shot), it would be more than enough.