The 11/3/2018 edition of The Baltimore Sun published an article by Tim Smith about a new documentary titled R.A.W. – From Destitute to Doctorate by Baltimore filmmakers Darren Durlach and David Larson.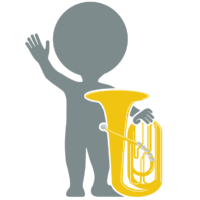 It's a great overview article that introduces the documentary about tubist Richard White, who went from being homeless, eating from trash cans, and abandoned on the streets of Baltimore to earning a position as an orchestral tuba player, one of the most competitive positions in any ensemble. Moreover, White is also the first African American in the world to receive a PhD in Tuba.
The documentary received a $2,000 2018 Mountainfilm Commitment Grant and is gathering additional funding via an Indiegogo campaign.
At the time this article was published, the campaign has three days left and was just over 50 percent of its flexible goal. The Indiegogo page provides the following overview:
Dr. Richard A. White (R.A.W.) experienced homelessness as a child in Baltimore and became the first African American to receive a Doctorate of Music in Tuba. He's a professor and also performs in the New Mexico Philharmonic. His remarkable journey shows what happens when grit collides with educators who refuse to give up. Now he's on a mission to help youth see that anything is possible with a little imagination, a message to inspire kids in Baltimore (and everywhere). #rawsome
You can learn more about the project and watch the promotional trailer at the campaign page. And of course, you can also become a backer.
I exchanged a few messages with Richard about the project and I think he sums everything up nicely when he said "this is a story that needs to be heard and seen by every kid in America."
Given that the field of classical music as a whole can always benefit from meaningful efforts to reconfirm its relevance, I am very happy to both support the project and encourage others to do the same.