Throwing money at a Customer Relationship Management (CRM) system will make you feel good. Really good. They're shiny, sexy, digital tools that are easy to sell. They're also completely useless if you don't know what you're trying to do with them.
CRM providers have become frighteningly effective at getting potential customers to see past that fact.
It's increasingly common to see CRM providers develop a sales pitch that presents their platform as being capable of helping organizations develop strategy. Meaning, simply using the system will magically produce that silver bullet strategy you've been searching for.
Some go so far as to develop algorithms designed to identify exactly when you should ask existing donors for money. Because really, why bother learning how to use technology when it can do all the thinking for you. Right?
If you think this is hyperbole, stop by this year's Nonprofit Technology Conference and tool around the exhibition hall. At least year's event, at least ¾ of the exhibitors were CRM platforms and I would be shocked to see that ratio go down for this year's event in March.
All of this isn't to say the CRM field is populated with nothing but shysters. On the contrary, most platforms are quite good.
Increased competition has driven development and managed to produce some superb options that would have been unheard of a few years ago.
But in the end, regardless the sales pitch, a CRM is just a tool.
It's no different than a hammer.
You can pound nails into a wall a day long and your choice of hammer may make the process a joy. But if you haven't done the work of figuring out why you need to hammer nails into a wall and figuring out where they will be most effective, you'll end up with nothing more than a smaller bank balance and a totally f'ed up wall.
My blogging spirit animal, Joe Patti, published a fabulous, nay dazzling, post on this topic yesterday. I couldn't love the title more: CRM Software Isn't Strategy.
Currently, too many groups look at CRM platforms as solutions to problems without having first gone through the slog work of figuring out what they really need to track.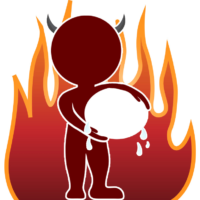 Perhaps unsurprisingly, CRM vendors wallow in this ignorance because it often equals bigger profit margins by way of letting the nonprofit's learning curve snowball into expense hell. And we all know what a snowball's chance in hell is.
For most small to mid-size event ticket-oriented groups, a good CRM goal to use at the onset of a platform upgrade (or, gasp, the great leap from the spreadsheet dark ages) is to keep it simple:
Ticket revenue (singles/subscriptions/memberships).
Annual donations.
Capital campaign donations.
If you want to get a little fancy, be sure to integrate that with your email marketing platform.
That's a good starting line to begin developing a meaningful data driven culture that produces strategic decision making capable of feeding right back into data gathering.