Google Analytics (GA) can easily track when a website visitor goes from one page to the next inside the same website but what happens if a visitor selects a "buy tickets" link on your website that delivers them to a third-party ticketing provider website. Can GA track the action between two different sites? Spoiler: yes, but…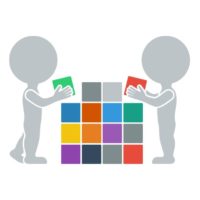 This is where cross-domain tracking enters the equation.
Cross-domain tracking allows organizations to collect data from multiple websites into a single Google Analytics account property. This allows organizations to see and analyze data from different sites in the same reporting view.
Since it isn't uncommon for performing arts organizations to maintain mutually exclusive primary and ticketing websites, cross-domain tracking becomes a crucial element to effectively analyzing the performance of online ads, email marketing campaigns, and even web page designs.
Having said that, implementing cross-domain tracking isn't always an easy process, and as a result, actual implementation across the field varies. As such, I want to provide a short survey to help get a better idea of just how common cross-domain tracking is and what sort of results users are experiencing. We'll examine the results next week.
Cross-Domain Tracking Survey