What a treat to learn the Click.Click.Done. Must-Have Google Analytics Settings tactical session was a big hit with attendees at the 2019 Nonprofit Technology Conference (#19NTC). The session produced a 97 percent overall satisfaction rating!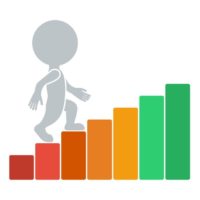 Many thanks to Ash Shepherd, Chief Program Officer and the entire Nonprofit Technology Network team that made all the work preparing for and executing the session as efficient as possible. I'd like to offer a special shout out to the AV sub-contractor; they were among the most prepared, friendly, supportive, and engaging AV professionals I've had the pleasure of working with.
While I've been giving both solo and co-panelist versions of this session for nearly a decade, the real benefit is the material is constantly updating. Meaning, it's the topic that never goes out of style and there never a shortage of nonprofit managers who will benefit from the material on the first go-around or as a refresher a few years down the road.
Participant Feedback
Attendees certainly helped reaffirm the session's long term value:
I think this tactical session was the most useful info I've gotten from the conference so far. I'd suggest more tactical session time in the future. Two sessions was not enough. There were so many more I wanted to attend! Loved it
Well organized, great pace, practical advice, and great checks for understanding.
SO MUCH good info! Thank you for the step-by-step, this is invaluable!
Already implemented a bunch of things he showed in the session. This is great.
Super efficient. Super informative. Loved it.
Drew was a very good presenter, very engaging. I think his point about more table space for tactical sessions is a good idea for future conferences.
I really enjoyed this session. It just needs to be longer.
Great speaker!!
Survey Results
Here's how the Click.Click.Done. Must-Have Google Analytics Settings session stacked up against the conference session average ratings.
Q1: How likely is it that you would recommend this session to a friend or colleague?

Q2: How well organized was this session (flow, filled the time, etc.)?

Q3: Please rate how successful the presenters were at creating a welcoming and inclusive space.

Q4: Overall, how likely are you to implement things you learned in this session?

These tactical sessions were something new for NTEN and from what I've seen in other session feedback results, it was a huge hit with attendees. I published a post back in January about the initiative so if you're involved with conference planning at a service or serve on a planning committee, I can't recommend enough that you consider this model.
Finally, here's a copy of the session slide deck, it contains copious speaker notes that, in most cases, have all of the realted instructional and "why you need to do this" info.
Share and Enjoy.