If I had a nickel for every time I saw a client point to something other nonprofits were doing, asked to use it as a model to copy, yet were completely unaware of how bad said thing was…well…I could simply pay them to stop saying that.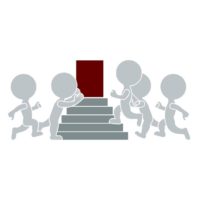 When pointing out why said thing isn't very good, it's not uncommon for them to point at a few other groups doing the exact same thing.
Far too often, frequency translates into best practice and in those instances, everyone ends up on the lemming train to underperformance.
Ceci Dadisman published an article at Medium on 4/30/2019 about this very topic that sums up all these frustrations and more. It's a quick and uplifting read that delivers equal amounts of kvetching and constructive criticism.
As nonprofit admins, we tend to get stuck in our own industry bubble. We are not just competing with other nonprofits in terms of patron dollars, we're competing with literally every other brand out there.

Our patrons receive thousands of messages a day from brands. They're not going to say in their minds "Well, this is a nonprofit so I'll have different expectations".
Read Unpopular Opinion: Just because other nonprofits are doing it, that doesn't make it right