Awhile back I was disagreeing with a statement from Michael Kaiser, president of the Kennedy Center.  Michael asserted that there is currently an oversupply of performances in many cities throughout the country.  At the time, I thought that this was a bizarre statement to make and I essentially feel the same way today.
However, there is a situation where this statement may have some validity.  There's a glut of orchestras across the country's metropolitan areas that aren't necessarily amateur but aren't necessarily professional either (I know, that's another discussion which has been covered here too).  Sometimes you even have orchestras in metropolitan areas that literally overlap communities.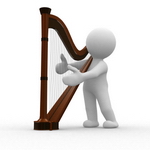 Take Michael Kaiser's back yard for example.  All he has to do is have lunch on the south deck of the Kennedy Center and turn his gaze toward Northern Virginia and he can see the territory served by four of these quasi professional orchestras: the Fairfax Symphony, Alexandria Symphony, Arlington Symphony, and McLean Orchestra (not to mention all four professional U.S. Military Bands and subsequent orchestra ensembles).  And each one of those orchestras does a remarkably similar task to his National Symphony; they perform music composed for full orchestra.
Since I spent some of my late teenage years in Northern Virginia I've always been familiar with each of these regional orchestras.  But it wasn't until recently when I took the time to really look into what each of these ensembles does for Northern Virginia that I began to see a very wasteful pattern of redundancy.
Here's a quick break down of each orchestra:

Here's a list of their repertoire from this season:
Alexandria Symphony
Barber: Adagio for Strings
Bernstein: Symphonic Dances from West Side Story
Copland: Fanfare for the Common Man
Corigliano: Mr. Tambourine Man:
Corigliano: The Red Violin
Danielpour: Toward the Splendid City
Holst: The Planets
Korngold: Between Two Worlds
Mahler: Symphony #5
Mihaud: La Creation du monde
Mihaud: Scaramouche
Ravel: Daphnis & Chloe, Suites 1 & 2
Ravel: Pavanne pour une infante defunte
Satie: Gymnopedie No. 3
Schubert/Liszt: Wanderer Fantasy
Vaughn Williams: Lark Ascending
Fairfax Symphony
Brahms: Academic Festival Overture
Mendelssohn: Violin Concerto in E Minor
Mussorgsky: Khovantchina Prelude
Shostakovich: Jazz Suite No. 2
Stravinsky: Petroushka
Brahms: Piano Concerto No. 2
Schubert: Overture in C
Mozart: Piano Concerto No. 9 in E-flat
Wagner: Siegfried Idyll
Prokofiev: Symphony No. 1 in D, "Classical"
Moncayo: Huapango
Lalo: Symphonie Espagnol for violin and orchestra
Piazzola: Oblivion Fernandez Batuque
Rimsky-Korsakov: Capriccio Espagnol
Beethoven: Symphony No. 2
Copland: Clarinet Concerto
Tchaikovsky: Variations on a Rococo Theme
Richard Strauss: Till Eulenspiegel's Merry Pranks
Berlioz: Roman Carnival Overture
Chopin: Piano Concerto No. 1 in E Minor
Dvorak: Symphony No. 7 in D Minor
Tchaikovsky: Violin Concerto in D
Sibelius: Symphony No. 2 in D
Arlington Symphony
Beethoven:  Symphony No. 7
Dvorak: Cello Concerto
Gershwin:  Lullaby
Mendelssohn:  Midsummernight's Dream
Mendelssohn:  Violin Concerto
Mozart: Don Giovanni – Overture
Rachmaninov:  Rhapsody on a Theme of Paganini
Rossini: La Cenerentola
Schubert: Symphony No. 9
Tchaikovsky: Romeo & Juliet Overture – Fantasy
Tchaikovsky: Serenade
Vivaldi: The Four Seasons
McLean Orchestra
Anderson: A Christmas Festival
Bach: Jesu, Joy of Man's Desiring
Beethoven: Music from the Creatures of Prometheus
Berlin: White Christmas
Bernstein: Suite from the musical On the Town
Brahms: Symphony No. 2
Bruch: Scottish Fantasy
Copland: Quiet City
Gabrieli: Music for Brass choirs
Herbert: March from Babes in Toyland
Humperdinck: Prelude to the opera Hansel and Gretel
Ives: Symphony No. 2
Schuman: New England Tryptych
Strauss: Champagne Galop and Donner und Blitz
Tchaikovsky: Nutcracker Suite No. 1
Tschaikovsky: Coronation March
Tschaikovsky: Symphony No. 5
Wagner: Entrance of the Guests at the Wartburg
Although I was glad to see that there weren't any duplicates between the four ensembles, they do have remarkably similar programming (but I give Alexandria a few extra points for programming more new works than their sister ensembles).  If you're familiar with that area, you'll also know that all four ensembles perform within eight miles of each other and two of them even perform in the same venue.
Granted, Northern Virginia is a densely populated area but doesn't it seem reasonable to think that four full orchestras performing similar works for essentially the same audience is simply too many notes?  Then start consider the cost of this redundancy; the combined budget for these four orchestras would amount to an annual budget of $2,093,565, which   is greater than the annual budget for more than half of the country's ROPA ensembles.
Here's a wacky idea.  Why not unite all of these ensembles into one orchestra capable of serving the same communities with quality orchestral programming?   The good side of the equation dictates that you can save a bundle on administrative expenses as well as only having to pay one music director instead of four.   By streamlining fundraising, you could also enjoy significant gains by reducing what the combined organizations currently spend to raise money.
So why isn't this the case already?  Because it comes down to egos and control issues.  Which three conductors are going to get the pink slip?  Which musicians do you let go?  Which board members retain executive seats?  Which managers stay and which go?  Out of all of those problems I would foresee the music director issue being the most difficult.  In more than a few of these orchestras, the music director uses the ensemble primarily for the benefit of their own career in so much as the benefit of the community.  And that individual also has complete access to the board members, therefore shaping their thinking and perceptions of the organization.
It's too bad though, you could really put together a top notch ensemble capable of giving top notch artistic performances.  And if you formed the group into a chamber orchestra as opposed to a full orchestra (which don't forget there's already a full orchestra right across the river in the Kennedy Center) you could have the beginnings of a "National Chamber Orchestra".  After all, America already has both a National Symphonic Orchestra and a National Opera Company.
So I can begin to see why Mr. Kaiser holds the view that there are too many performances.  In his neck of the woods I would have to agree that there are too many orchestras all offering too similar of a product.   This is one case where less could literally be more.