In a brief entry yesterday, I objected to how some journalists focus on all but the smallest percentage of large budget orchestras when referring to the orchestra industry as a whole.  It's simply not representative of this business nor is it appropriate as the vast majority of people across the country are exposed to live orchestral classical music via an ensemble that is not based in New York, Boston, Chicago, Philly, Cleveland, L.A., or San Francisco.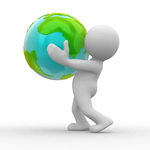 Case in point, the New Mexico Symphony Orchestra.  In an article by Frank Zoretich in the Albuquerque Tribune he brings up the current orchestra contract negotiations which are now underway.  The general idea of the article is that even though the New Mexico Symphony Orchestra's management does wish to raise the musician's base pay the musician's feel they deserve more than what's being offered.
It's unclear exactly what management's offers for increased pay have included but as it stands now the orchestra's annual base salary is $15,758, which is a fraction lower than what they were paid a dozen years ago.
According to Carla Lehmeier-Tatum, a cellist in the orchestra and spokesperson for the players association, the article reports that since 1995 the NMSO budget has:
"…increased by 72 percent, the salary for the executive director has gone up 66.6 percent and expenses for administration and production personnel have increased by more than 100 percent."
However, musician salaries have gone down by about 1% during that same time period.  It's not unusual for an orchestra the size of the NMSO to undergo a period of rapid growth and as a result they will need to temporarily increase non artistic expenses at a faster rate than artistic expenses in order to create an ongoing support structure for the organization.
Unfortunately, a decade of unbalanced growth without a solid plan to compensate the musicians for subsidizing the organization's expansion is just plain wrong and threatens to turn what should be a temporary situation into a permanent inequity.
Unlike the New York Times article by Daniel J. Wakin which makes it seem as though orchestra musicians typically earn low six figure incomes, the base salary of $15,000 in Albuquerque hovers around the poverty level.  If the organization can give the executive director raises equaling a 10.4% increase since 1998 (as of 2002, it was $71,791) then the musicians deserve increases equal to if not better to that.
In the NYT piece Daniel quotes Philadelphia Orchestra President, Joe Kluger (another manager who's well known for "less than appropriate" timing when it comes to personal salary increases), defending a sharp increase in operational expenses:
"[He said] that as ticket revenues have shrunk, as a means of covering costs fund-raising – and robust staffing for development and marketing staffs – became crucial."
Unfortunately, that's only true from the standpoint if you try to accomplish an increasingly difficult goal with the same tactics you've always used, or, greater work for less results.
But in the case of the NMSO we're not talking about some mediocre ensemble that is simply growing out of being an amateur community group.  They've made several recordings (available at their website) and their artistic accomplishments far exceed their respective compensation.
Although it's apparent that the NMSO board has done some good work in recent years raising funds for the orchestra, their job is only just beginning.  Now they need to make an even greater commitment to reward the musicians for subsidizing the organization for so many years and compensate them what they are worth and equal to what their peer ROPA ensembles earn:
Richmond (VA) Symphony
Approximate 03-04 budget: $4.1 million – Approximate Base Pay: $28,800
Fort Wayne Symphony
Approximate 03-04 budget: $4.4 million – Approximate Base Pay: $22,300
New Mexico Symphony Orchestra
Approximate 03-04 budget: $4.0 million – Approximate Base Pay: $15,700
Conclusions
Even though the current negotiations in Chicago and the other big budget orchestras are an important part of the industry landscape, they're still only a small representation of what's out there.  The current struggle to earn a living wage in New Mexico is far more symbolic of what many orchestras trudge through on a regular basis.
As a result, what happens in Albuquerque is every bit as important as what happens in Chicago.  The bigger budget orchestras have successfully demonstrated that competitive pay is a crucial component to achieving artistic success. In Albuquerque, the management and board need to realize this fact and put in more hard work to make it a reality for their organization.