It never ceases to astonish me how many managers (and even some musicians) have expressed the opinion that free concerts have little to no value. Nevertheless, when implemented properly, free concerts have the potential to do more for developing an audience and raising the level of appreciation for live orchestral music than just about any other tool available today. Case in point, the Grant Park Music Festival featuring the Grant Park Orchestra and Chorus…

Throughout the course of 10 weeks each summer, the Grant Park Music Festival attracts tens of thousands of listeners who are exposed to first rate performances. Furthermore, they cultivate and retain these listeners even though they program some of the more challenging works from traditional repertoire as well as quite a bit of new music.
At the heart of its success is the fact that the GPMF is perhaps the only large budget music festival in the country which is subsidized mostly by government funds. As a result, concerts and rehearsals are free to the public, and those concerts draw as many as 8,000 listeners.
I could go on and on but instead of pouring words all over the topic, perhaps it is better to let some pictures do the talking:
The following photographs (click to enlarge) illustrate just how popular GPMF concerts are among the Chicago public (and tourists). These photographs are of a concert from the 2006 season which featured Vine's Percussion Symphony and Orff's Carmina Burana. The crowds were so big that I had to take two separate panoramas, one for the fixed seats (top) and one for the lawn seats (bottom). Just in case you think everyone was there for the Orff, think again. I witnessed more people milling about or leaving during the Orff than I did during the Vine.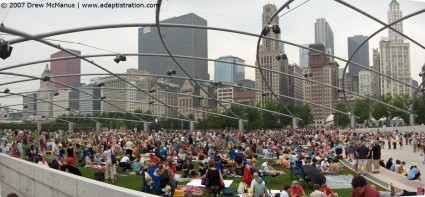 Not only are the concerts popular but crowds form early. The photograph below (click to enlarge) illustrates just how many listeners show up early to stake out their preferred seats. The photo was taken approximately 45 minutes before a concert (and during an evening where it was expected to rain).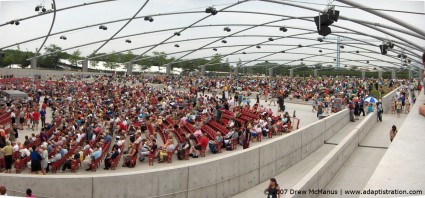 Finally, orchestra rehearsals tend to draw a large number of locals and tourists every day they rehearse. It isn't unusual to find a few hundred listeners there in the afternoon enjoying a picnic, the lunch hour, or just stopping by because they heard the music as illustrated in the picture below: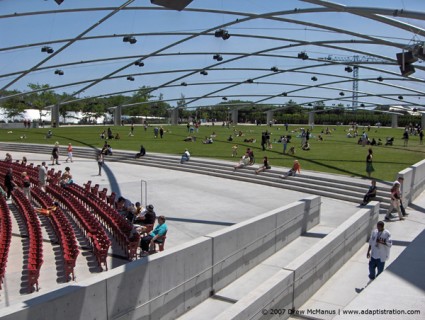 In fact, the GTMF managers noticed so many people attending rehearsals that they initiated a volunteer docent program to interact with the afternoon crowds, which is illustrated in the following photographs (click to enlarge).
The fact that Chicago stands alone among American cities to provide such an invaluable city resource – free orchestral concerts – is a shame. Of course, why would any city and/or state government find value in such an idea if the managers from their resident orchestras don't espouse the value of free concerts on cultural enrichment?
In the end, this business needs to begin pushing for more large-scale free summer music concerts patterned after Grant Park. The politicians may kick and scream along the way but if you wait for them to do it on their own, it will never get done (and if Chicago politicians ever decide to cut GPMF funding, may God have mercy on their souls).