In the early evening of Tuesday, 6/14/2016, Lawrence A. Johnson broke the news via an article at ChicagoClassicalReview.com that the Grant Park Music Festival (GPMF) announced that they were cancelling their opening night concert on Wednesday, 6/15/2016 due to a musician's strike. The Chicago Sun-Times and Tribune quickly confirmed but all of the reports were missing some key elements, such as why the musicians decided to strike.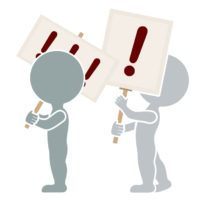 GPMF musicians did not release a statement about the strike nor did Local 10-208, American Federation of Musicians, which represents the musicians. The GPMF released a micro statement but it contained no information about the employer's offer and simply focused on information related to canceling the opening concert.
But before you can sing Götterdämmerung, the GPMF announced a tentative settlement was reached and the opening concert was back on.
Easily, this is one of the oddest, shortest, and mysterious work stoppages the field has witnessed.
Length notwithstanding, there must have been some reason the musicians decided to call a strike and in order to find out more, I contacted Local 10-208 President, Gary Matts to ask about which elements in the employer's offer triggered the strike action. At the time this article was written, Matts has yet to reply.
Matts did release a general statement announcing the tentative agreement but it failed to reference any issue(s) that triggered the strike in the first place.
"The Musicians of the Grant Park Orchestra are pleased to have reached an agreement on a new contract, which will allow us to continue our long tradition of presenting the finest orchestral performances in this unique setting."
According to sources inside the dispute, the musicians conducted a ratification meeting shortly before 5pm CT on Wednesday, 6/15/2016.
If nothing else, one worthwhile byproduct is an article from John von Rhein in the 6/14/2016 edition of the Chicago Tribune. Although technically reporting on the strike, given the complete lack of details from either side in the dispute, he manages to present a wonderful overview of the festival and its artistic value on both local and national levels. The article also does a good job at covering recent ground with troubles related to patron blow-back over the organization's membership programs.