I'm writing this just after finishing up yesterday's radio appearance at WNYC's Soundcheck and I wanted to get some additional thoughts out before they become blurred by the rest of my day. First off, many thanks to the staff at Soundcheck for inviting me to take part in the discussion; it was a sincere honor to talk about such a momentous event in a live, national forum. Additional thanks to Norman Lebrecht, who is someone I respect have always maintained a good relationship with. It is never a dull conversation when Norman's involved. Immediately after the segment concluded, the first thought that popped into my head was about the overriding point that Norman and other fine minds such as Terry Teachout have made which is a despot like Kim Jun Il are just using the New York Philharmonic to advance their despotic rule. Yes, bad people will do bad things but that shouldn't prevent good people from doing good things…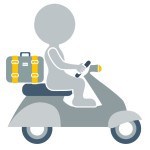 I'm glad Norman brought up the issue of sanctions and the example of where that course of action was effective, such as South Africa. At the same time, sanctions, along with any other diplomatic tool, do not guarantee universal results. Furthermore, if the sanctions against South Africa excluded cultural exchanges, would that have been enough to keep the government from falling? Just imagine how quickly inroads could have been made once that government collapsed if stronger cultural ties had been forged throughout the period of sanctions.
Right now, I watch the presidential candidates argue about how to deal with Cuba now that Castro has abdicated power. But all I can think of is how much has been lost over the last several decades because the sanctions were so tight as to exclude cultural exchanges. I have to wonder whether the Florida Philharmonic would have gone out of business if they had something such as regular visits to Cuba as part of their strategic mission. Perhaps the Miami community would have realized the value and importance of having a world-class professional orchestra instead of allowing it to fade into oblivion.
I could probably sit here and write about each and every point that comes to mind on this issue but ultimately, I think it is important to look at the New York Philharmonic's performance not from the whether or not it instigates change but how successful they were at making connections capable of withstanding the strains of change. In a way, that's exactly the sort of challenge the business, as a whole, is going through in each respective community. When history looks back at Korean/U.S. relations (and I sincerely believe that the peninsula will be united during my lifetime) it will spend less time examining the politics of a brutal regime and more time on the cultural ties that served to help pull the victims of that regime up to equal standing on the world stage.