The 5/17/2009 edition of the Chicago Tribune published an article by John von Rhein that takes a much broader look at orchestra employee expenses than most traditional media articles on the topic. Instead of focusing primarily on expense reduction initiatives focused squarely on orchestra musician salary cuts and those from administrators and staffers, he takes a closer look music directors and guest artists (conductors and soloists)…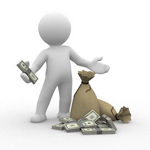 Von Rhein points out that among the largest budget orchestras, only Franz Welser-Most (Cleveland) and Osmo Vänskä (Minnesota) have publicly announced salary reductions. What is particularly interesting here is that von Rhein doesn't pull any punches when it comes to the enormous gains in salary improvements conductors have enjoyed as compared to other institutional stakeholders.
"The dirty little secret in the classical music world is that even the best conductors are wildly overpaid for what they are expected to do. Music director fees in the Big Five orchestras of Boston, Chicago, Cleveland, New York and Philadelphia skyrocketed during the boom years of the late 1990s and have remained high."
This is an issue that has been examined here at Adaptistration from time to time and the impetus behind such large increases rests squarely on the shoulders of the professionals tasked with representing music directors: artist managers. Fortunately, von Rhein's article includes this often overlooked component and he contacted several major artist management firms (including Columbia Artists Management, IMG Artists, Opus 3 Artists and Harrison/Parrott Ltd.) and asked them "if they believe the compensation levels received by conductors represented by their firms are fair in light of the economic crisis."
According to the article, the only response beyond no response or "no comment" was from Columbia Artists Management's Judie Janowski, who is quoted saying the question should best be "addressed to the presenters, as they are the ones paying the fees."
That was a particularly intriguing response which may strike some as coming across somewhat like an abusive husband telling the police to go ask his wife why her nose is broken knowing full well she'll say "I fell down." Although no one in this business would refute that any artist should be denied the services of competent personal representation, it is well known that presenters have far less influence over the general increase in the rate of artist fees. However, larger budget performing arts organizations and nonprofit presenters have a better time at slowing down those increases than their lower budget peers. But even then, there's no guarantee that guest artists and/or their managers will accept lower fees.
For example, von Rhein's article reports that the Chicago Symphony Orchestra "announced that beginning next season, it will reduce performance fees for guest artists and conductors as part of an operating budget for fiscal 2010 that is nearly $2 million smaller than originally planned." At the same time, this doesn't say that they are insisting that guest artists accept less or if they've even approached artist managers to negotiate lower fees, it simply states that overall expenditures will be reduced.
To expand on von Rhein's parameters, it is fair to go beyond examining actual artist fees and ask whether or not artist managers are charging their clients less for their services commensurate with any reductions to the fees charged to orchestras and presenters. Furthermore, this line of questioning should be expanded to all individuals whose work is primarily based within this business, which includes consultants.
I certainly don't speak for all consultants, but I can say that in the course of my consulting work, fees have been adjusted accordingly to a client's recent reductions in expenditures and I have expanded the number of annual pro bono and reduced fee projects.
Early in his article, von Rhein makes a poignant comparison between the orchestra business and the "let them eat cake" attitude of high profile for profit executives.
"The situation is a bit like that of banking and auto industry CEOs still living the high life even as thousands of their employees are laid off and their companies sink ever deeper into fiscal chaos."
Orchestra stakeholders that have benefited from extraordinary compensation increases over recent decades would be wise to take note. Not only are adjustments in surface compensation necessary for many organizations but they need to acknowledge that hidden payments in the form of golden parachutes, elaborate retention bonuses, deferred compensation, and other measures negotiated at the onset of work contracts designed to ostensibly hide cumulative compensation levels are no longer acceptable business practices.
Anything less may indicate that a privileged few are risking the future of the entire business for nothing more than their own personal gains. Von Rhein's article graciously includes one of my quotes often used in the annual compensation reports saying "If [music directors] can quantify their value to the institution by asking, for example, how much additional funding they helped the group secure, it's not an unreasonable expense," and I firmly believe that. Demand-based pricing is one fair method for determining compensation but there is a fine line between quantifiable demand-based pricing criteria and abusing the nature of a nonprofit business.
In the end, are too many willing to give it all up for just a little bit more?