"Psssst…hey you…yeah, you der…c'mer…over here. Yeah, dat's right, over here…I hear youse been lookin' for a new revenue stream. Say, buddy, I'se got just what youse need…" That might seem a bit melodramatic but the reality is that some managers are so desperate for revenue they would be willing to talk shop in a dark alley. Fortunately, it doesn't have to reach that extreme, but you will have to continue reading this blog post to find out more about how to tap into a sustainable revenue stream that can be developed without sacrificing other revenue performance resources …
I promise there are no dark alleys involved; in fact, all you have to do is visit your orchestra's website. Go ahead, open up a new tab or window, take a good look around, and then come back – I'll wait. But before you run off, go ahead and pick up a copy of your latest program book.
OK, how many ads do you see in your program book and how much revenue did they bring in last season? Now, compare that with the ads you found on your website and the revenue that generated. Ah, I can almost hear your thoughts, "…but we don't sell ads on our website…"
Exactly.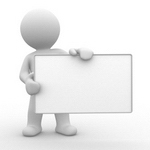 Everyone sells advertising space for program books but I have yet to encounter a group that takes the same approach to their website. Sure, a number of orchestras list concert sponsors, donors, grant makers, etc. but why should there be any difference between the earned income developed from program book ad revenue and your website? Why not offer limited website advertisement opportunities as add-ons to existing buyers that purchase advertising in your program book or offer stand alone options for those more interested in reaching an online based audience?
To get started, run through the following checklist:
Do I have access to my website's traffic statistics (demographics, visit details, etc.)? If so, how long have we been recording traffic stats?
Does my website have the ability to display ads? If so, what options exist?
Do we have the ability to target website ads toward particular visitors?
Do I know what acronyms like SEO, CPM, CPC, and CPA mean?
Do we sell program book ads using in-house resources or do we outsource that to someone else? If the former, what is involved with adopting our existing sales material to sell website ads?
What sort of payment models can we offer potential advertisers?
From a dynamic perspective, approaching your website as a sustainable revenue resource casts a new level of importance on increasing user interactivity and usability. Say goodbye to the days of brochureware (it's about time!) and hello to monetizing a well designed and meaningful portal to symphonic culture in your community. But wait, there's more; you'll sell more tickets online at lower costs than ever.
Unfortunately, some groups may not be able to take advantage of this new earned income stream right away because they don't have enough control over the website to establish reasonable advertisement practices. On the upside, it is something they can easily incorporate into the redesign process (in fact, advertisement revenue will likely offset all or a large amount of the redesign process).
But wait, I see a few readers with their hand up anxious to interject. What's that? You say advertisement sales are at an all time low so why bother chasing earned income from a diminishing pool of buyers? What do I have to say to that? Well, I would have to agree with you. Just about everyone is cutting back on advertising right now. On a recent trip to our local Costco, I noticed that the three off-ramp billboards that have never been empty in as long as I can remember had "ADVERTISE HERE!" notices plastered on each one.
Fortunately, the simple fact is it doesn't matter. If you're not developing any revenue from website advertisements now, what do you have to lose? The worst case scenario is you can piggyback website ads as a value-added bonus to program book sales efforts (although you'll be selling yourself short if you do)
By this point, your head should be awash in a sea of potential. But the more you start thinking about infrastructure items like determining fair rates, how to create ad space without detracting from the organizational mission, setting realistic sales goals, and selling said ad space, the more it seems like you're trying to navigate this sea in a sailboat sans sail.
Fortunately, all you need to get on track is contact a local professional with experience in this field. Or you can make it easier on yourself and just drop me a note or give me a call at my Chicago office top see how I can help out in a professional capacity. Odds are putting something in place won't be as difficult as you might think and imagine how satisfying it will feel to add a new revenue item to your financial reports. After all, it beats walking around unscrewing every other light bulb in the office to cut down on utility expenses.