Reports of heavy rain and floods aren't the only news coming out of Atlanta. The 9/22/2009 edition of the Atlanta Journal-Constitution published an article by Pierre Ruhe that reports Atlanta Symphony Orchestra (ASO) president and CEO, Allison Vulgamore, announced she will not renew her contract after it expires in June, 2010…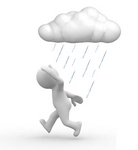 Ruhe uses crystal clear perspective to walk readers through Vulgamore's key moments at the ASO; no rose-tinted glasses here, you get the peaks and valleys in one scenic trip. I would be surprised if follow-up articles aren't already cooking at Ruhe's blog, artscriticATL.com as well as the Journal-Constitution. Speaking of the Journal-Constitution, I wonder who made the decision to publish a photo of Vulgamore with the Santiago Calatrava designed concert hall in the background. Business insiders and regular readers know the ASO scrapped plans to build that beautiful concert hall after an unsuccessful capital campaign. My guess is someone didn't make that connection (it is an otherwise lovely photo of Vulgamore) or has a very wry sensibility.
800 or so miles to the north, the Philadelphia Inquirer posted an article written by Peter Dobrin that also reports on Vulgamore's decision to leave the ASO. Dobrin goes on to write "Vulgamore…has met several times in the past few months with Philadelphia Orchestra leaders and has emerged as the only current contender."
However, in case you were heading toward the comfort of a self fulfilling prophecy, Dobrin ends the piece with this bit of pragmatism.
"Two other finalists for the post – both also from smaller orchestras – are no longer in the running, sources say. One has already accepted a job with another orchestra.

It is possible that the orchestra will end this round of the search unsuccessfully, forcing it to start from scratch, several orchestra officials say."
It wouldn't be the first time that has happened in this business and if it comes to pass here and now, it undoubtedly won't be the last. If nothing else, the conclusions from my post on Monday are worth a second look:
"The bottom line is that each passing day [without a permanent CEO] places the Philadelphia Orchestra at greater risk. At the same time, rushing to fill the CEO vacancy with a less than capable executive to simply have someone in the position is a recklessness course of action. It might seem like a Catch-22 scenario but the reality is the organization simply needs to expand its search parameters. If nothing else, the economic downturn has demonstrates that conventional wisdom is just as much of an oxymoron as ever so if your current search parameters aren't producing the results you want, change them. Step one is simple: start talking with sources outside the usual suspects. After all, what does the Philadelphia Orchestra have to lose?"