Take A Friend To The Orchestra (TAFTO) 2010 is only two months away and in order to give orchestras interested in putting together a TAFTO oriented event something to work with, I wanted to announce the first round of confirmed contributors.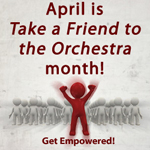 I do hope this is enough to help some groups get started with putting together a TAFTO event for the Spring. As always, I'll post the remaining contributors as they are confirmed. Like last year, there will be a variety of free promotional banners, buttons, etc. that groups can use to help promote a TAFTO event but if there's anything in particular you think would be helpful, send along a message and I'll see what can be done to make it happen.
In the meantime, visit the TAFTO archives for five years of fantastic essays, audio blogs, and yes even a cartoon from equally fantastic contributors as they share their insights on how average patrons throughout the country can invite friends who don't regularly participate in live music events to a performance in your area.