Although I'm up to my eyeballs in work and fun in NYC this week, I want to take a moment to acknowledge that today marks the sixth anniversary for Joe Patti's blog Butts In The Seats; Musings on Practical Solutions For Arts Management. I was enormously pleased when he decided to include his blog among the ranks at Inside The Arts and I firmly believe his RSS feed should be in every arts manager's Top 10. One of his latest posts on cell phone donations is an excellent example behind why he is such an important voice within the online cultural community…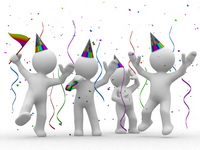 If you aren't already familiar with Joe's blog, stop by and set aside a meaningful amount of time to go through everything at Butts In The Seats.
In other news, Philadelphia Inquirer Classical Music Critic Peter Dobrin continues to dig deep and produce some significant reporting on the current state of the Philadelphia Orchestra. His latest contribution does a wonderful job at illustrating that there's more to orchestral success than playing and the line between jargon friendly conversation and simply being cagey is razor thin.