From the very beginning, The Venture Project has been focused on serving as a paradigm shift in the way many performing arts organizations improve marketing, revenue, and outreach performance. To that end, the overall cost has been an integral component in that process but the reality is that the existing lowest price point was best suited for groups starting at the $1 mil annual budget level on up. But thanks to some big-brain thinking from the developer, BlueprintDS,  it is looking more and more likely that will change for the better…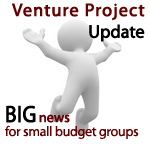 We're still working on overall feasibility, but if all of the pieces fall into place it looks like we'll be able to offer a special price point exclusively for the under $1 million $2 million annual budget organizations (we were able to double the annual budget figure as a result of some ninja level business planning skills!). Perhaps the best aspect of this is that all the core elements making Venture special remain intact, especially the Creative Control Engine, Venture's spearhead feature. Based on what we know so far, it's looking like we'll be able to add a third annual subscription price point for the under $1 mill budget groups that won't exceed $2000; update 8/5/2010, the annual fee will be $1750!
In other Venture news, I'm very happy to say that the final components related to Pro Connect, Venture's email marketing and patron communication module, wrapped up a few remaining loose ends this week and we'll be able to offer more there than originally planned. This part is really helping Venture to shape up as being one of those key pieces of technology that make a big difference in how you work.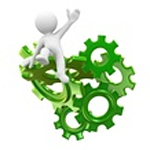 Regardless of what you think or understand about technology and arts administration now, Venture is going to be one of those high-performance, low-frustration tools that make you wonder how you ever survived without it. It will work – and allow you to things you didn't think were possible – without having to understand it or speak geek.
All in all, it was a very "added value" oriented week for Venture and in a time where work environments are defined by less, Venture keeps coming up with more.
I couldn't be happier and April can't get here fast enough! In the meantime, make sure you sign up to receive the VentureIndustriesOnline.com launch notice.