I have big love for logos, typography, and pretty much all things related to identity design. I could lose weeks, nay months, of time trolling through the pages of Logo Designer Blog, I love Typography, Just Creative Design, or any of the other wonderful bookmarks that clog my Firefox toolbar folders. It should come as no surprise then that some of the most enjoyable aspects of Venture are related to these components and I have some updates to share…
The Venture Logo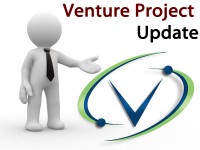 One of the more exciting elements that wrapped up last week was Venture's logo. Laruen, the design ninja at Blueprint Design Studio (BDS), waded through pages of my pre-design notes and dozens of basecamp messages that followed each design revision to create just the right logo.
I simply couldn't be happier with the final design; it equally projects the inherent sense of Venture's business philosophy as well as its technical competence. It captures the sense of contemporary sophistication and state-of-the-art while retaining a sense a familiar comfort. The final version was produced in two variants, one to use over lighter background (like the image to your right) and the other for darker backgrounds. The latter version is currently in use at the Venture website.
Making Better Use Of Typography
In addition to giving users direct control over selecting font families and styling options for various text elements (headers, body, links, etc.), we're currently exploring the best way to incorporate the use of Cufon to enhance branding efforts. Cufon is a dynamic text replacement tool that provides a way to use nonstandard web fonts without worrying about compatibility issues or using Flash.
This allows groups to use beautiful typography for elements that work best when standing out; like headlines or pull quotes. Furthermore, it's an ideal solution for organizations that incorporate the use a proprietary font designed especially to build their brand (and likely cost a pretty penny). In short, Cufon helps add that little something extra that makes your website look and feel like, well, you. Using something like Cufon is already straightforward but we're working on ways to make it point-and-click easy.
Poof! There It Is.
If you've been keeping track of Venture Project updates, you likely remember the post about wireframe conceptual sketches. Those provided a good sense of just how flexible and what sorts of components you can expect out of Venture but you had to use your imagination to see something from an end-user perspective.
Fortunately, Lauren (the very same design ninja mentioned above) started working on designing the color palettes that will be provided as part of Venture's core package. They can be used as-is, as inspiration, or replaced altogether. Users receive all of the graphic files for easy editing along with templates to aid in creating custom graphics.
Lauren has also been hard at work developing conceptual designs to help connect what's going on in code development with what's going on in graphic design. You can see the results in these early renderings based on the original wireframes:


Keep in mind, these represent the beginning of the conceptual sketch process. Think of them as little Venture o'hor devours. Since then, the designs have been getting better with each revision and the additional color palettes are providing an enormous amount of additional depth.
Revised Launch Date
The final item for today's update is an announcement to inform everyone that I decided to move the official launch date to June. The added time will allow us to incorporate the larger number of user features and much of the new platform updates from the impending WordPress 3.0 release. We'll be taking a look at much of those items as they pass through the development process.
In the meantime, the Venture website maintains a countdown clock that is updated whenever changes are made. You can check in on those changes whenever you like or to make sure you don't miss out, you can sign up for the official launch notice.