Unless plans change, members of the faculty, staff, and board of directors of the Aspen Music Festival will conduct a vote of no confidence in president and CEO Alan Fletcher. From a governance perspective, the vote is not actionable in the sense that the board must adopt any course of action based on the outcome. As such, it carries more weight as a political tool and to provide an official forum for board members to entertain stakeholder feedback…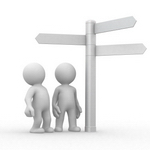 Nonetheless, emotions are reportedly running high throughout a broad cross section of the organization. The depth of this unrest was illustrated recently when long time music director David Zinman requested, and was granted, a release from his existing contract.
Needless to say, Zinman's request to leave only months before the summer season begins is about as grand of a gesture of dissatisfaction possible short of coming out with a public statement of condemnation. Although Fletcher is almost certainly feeling pressure related to today's vote, the real governance drama will take place later in closed board room sessions and conference calls.
From a stewardship perspective, the task at hand is to retain the highest possible state of board cohesion that simultaneously maintains levels of active participation and contributed revenue levels. If the board can accomplish this while simultaneously balancing artistic cohesion among a mandate level of institutional stakeholders, then the vote could serve as an enormously useful vehicle toward stabilizing the festival.
Update 5:40pm CT: The Aspen Music Festival issued the following press release shortly after 5:00pm CT:
AMFS CORPORATION PASSES VOTE OF NO CONFIDENCE FOR PRESIDENT AND CEO ALAN FLETCHER
Non-binding vote does not require action
Aspen, Colo. — The Aspen Music Festival and School Corporation today convened a special meeting to consider a vote of no confidence in president and CEO Alan Fletcher. The no-confidence motion passed by a majority.
The Corporation is composed of 147 AMFS affiliates: 37 members of the Board of Trustees, 90 artist-faculty members, and 20 at-large members. This composition is dictated by the institution's bylaws. Per those bylaws, its duties and responsibilities are to define the mission of the corporation, approve all amendments to the articles of incorporation and the bylaws; and to approve the lay (non-musican) members of the board of trustees and the at-large and non-voting members of the corporation.
The Aspen Music Festival and School is the United States' premier classical music festival, presenting more than 350 musical events during its eight-week summer season in Aspen, including orchestra concerts, opera, chamber music, lectures, children's events and more. The institution draws top classical musicians from around the world to this charming Colorado mountain retreat for an unparalleled combination of performances and music education. More than 25 percent of events are free and seating on the David Karetsky Music Lawn and in the Music Garden is always free. The 2010 season runs July 1 to August 22.