Funny things pop into your head when you find yourself in less than desirable places. Tonight, it's all about hearing words come out of your mouth that you never thought you'd ever say…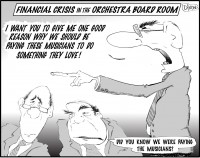 Somewhere toward the top of that list is saying "I bet that musician loves their job and they don't even care about being paid." The fear of becoming lampoon fodder, like that cartoon to your right, would normally serve as an effective firewall; but sometimes, it's beyond our control.
Case in point, Neo Classical author and violinist Holly Mulcahy, found herself in precisely this situation last week. Fortunately for us, she wrote all about it and it's a good read.
Now if I can just get home in time for the alarm clock to go off…