Now that the 2010 orchestra website reviews are done, I wanted to take a moment to point out that all of the related content for US and Canadian orchestras is now available at the completely redesigned Adaptistration Premium. The site now includes a number of user interface enhancements, but the good news is subscription prices are remaining exactly the same…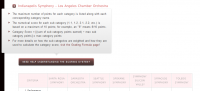 If you're not already familiar with Adaptistration Premium, it's the members only location for exclusive US orchestra compensation data as well as all of the detailed US & Canadian website review information. In short, it's the ultimate shortcut to becoming an insider. In addition to converting all of the website review content over to interactive data tables, the redesign provides a number of enhancements that improve usability, like pop-up tool tips to help subscribers process the depth of data.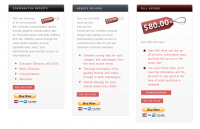 Individual subscriptions are available for compensation report and website review content separately or you can purchase an all-inclusive pass at a discount. All it takes is five simple stapes to get your very own instant access subscription. So what are you waiting for? You could become an insider in less time than it takes to watch a set of television commercials.