It has been a few weeks since we've examined the Detroit Symphony Orchestra (DSO) work stoppage but all in all, we haven't really missed very much. As of today, the DSO musicians have been on strike for 26 days and the last public dust up occurred in conjunction with a musician sponsored concert event on October 24th…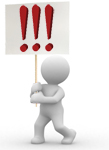 A few weeks before the scheduled concert date, WADL-TV came to an agreement with the musicians to broadcast the 3:00pm ET concert. According to a 10/23/2010 Detroit News report by Lawrence B. Johnson, the television station received a letter from a law firm hired by the DSO which "ominously suggest[ed] that the station might end up with liability in connection with the broadcast."

Apparently, the television station did not take kindly to the letter and issued the following statement:

"We are disappointed that the management of the Detroit Symphony Orchestra should seek to instruct us on how we are to fulfill our responsibilities to our viewing public and that they should be expending scarce resources to hire an expensive New York law firm in a misguided attempt to create obstacles to the public's being able to view and hear a performance by an illustrious group of musicians."

Johnson reports that the DSO issued a subsequent statement to clarify the intent of the letter sent by their legal representation.

"The DSO recognizes and does not wish to interfere with its musicians' right to publicize their grievances, nor does it intend to interfere with what WADL chooses to broadcast.


Our sole concern is with the misleading use of the DSO name and mark to solicit funds and suggest that actions taken by striking musicians somehow support the DSO, when they are in fact adverse."

Beyond all of the high school style drama, is a fascinating study in the value of an orchestra's brand. More to the point, what is it that comprises an orchestra's brand? Is it merely the name and logo or is it something else?

Consider what would happen if an orchestra with a long and well established history, like the Chicago Symphony Orchestra (CSO), with an inarguably distinct sound cultivated over decades and codified in a multitude of broadcasts and recordings suddenly disappeared in the Bermuda Triangle.

What would happen to the CSO brand?

Certainly, if the musicians were never located, the organization could hire an entirely new orchestra but would it still be the same CSO that was identified by its traditional brand? Consequently, the DSO situation becomes a fascinating study, albeit academic, on the value of an orchestra's brand.

Is the brand restricted solely to the name and any registered trademarks? Is the value of an orchestra's brand defined in any part by a history of musical accomplishment? Does the brand transcend the musicians to stand entirely on its own regardless of artistic components? What do you think?