Many thanks to Patty Mitchell over at oboeinsight.com for her post from 11/8/2010 where she takes conductor James Gaffigan to task over comments he made in one of his blog posts where he suggests the field needs to make room for the current crop of Juilliard students. Writes Gaffigan, "So, let's make room for them!  I have conducted too many orchestras where individuals can't play their instruments anymore."…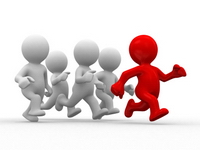 Now, to be certain that we're not wallowing around in contextomy, make sure you read Gaffigan's entire post; better still, I'll include the complete version at the end of this post.
What I find puzzling about Gaffigan's post isn't the questionable ageism, it is the seemingly willful anosognosia (God have mercy on his soul if he ever has to initiate peer review for a player over the age of 55 and God help the poor managers that will inevitably deal with the storm of grievances and age based discrimination lawsuits).
Granted, I'll give Gaffigan the benefit of the doubt to the degree that his frustrations with a system he identifies as broken appear to be quite sincere. In fact, the system is in need of overhaul but the symptoms that have Gaffigan hot under the collar aren't from the disease he's diagnosed.
We're going to look at that in greater detail next Monday. [spoiler name="spoiler alert!"]It involves introspection.[/spoiler]
In the meantime, what do you think about all of this?
Wednesday, October 27, 2010
Posted by James Gaffigan at 8:52 am Comments Off
http://jamesgaffigan.com/blog/?p=45

It was an interesting surprise a few weeks ago to hear that there was a possibility for me to conduct the Juilliard Orchestra at Alice Tully Hall.  My manager called and told me that I could conduct this concert on the condition that I return to the US two days earlier than planned (keeping me from seeing my wife and newly furnished apartment in Lucerne) and that I had to commute back and forth to my pre-existing engagement with the Indianapolis Symphony.  It was a crazy schedule, but I had a funny feeling that it would be a really rewarding experience.  So, I said yes…

Coming from straight weeks of guesting in Sao Paulo, Leipzig, Amsterdam, Cleveland, Cincinnati, Brussels, it was nice to be back in my old stomping grounds of Lincoln Center.  Besides having gone to LaGuardia High School and the Juilliard Pre-College, I have many great memories of attending concerts and operas, and being out with colleagues in this neighborhood.

I did not know what to expect in conducting at Juilliard. When I was in the pre-college there was a very lazy attitude amongst the students in orchestra.  The Juilliard School had a world-class reputation, but it was not for their ensembles. I would hear stories about a fantastic concert once in a while, but overall the students were not known to take orchestra as seriously as those at other conservatories or schools, such as Rice University or the Curtis Institute.

Before I arrived, the Juilliard Orchestra prepared by having sectionals and one orchestra reading/rehearsal.  When I showed up, I saw many familiar faces among both the orchestral management and the student musicians. I experienced a very warm welcome in a very new Juilliard building, including the rehearsal space on the fifth floor – it used to be a courtyard!

My rehearsal began with Brahms's first symphony. I gave the downbeat to the opening and could not believe my ears.  Looking around in those initial few moments, I saw every set of eyes up and attentive to my gestures and to the playing of their colleagues around them. It was unbelievable.  I was happy.  I am rarely that satisfied when working; every rehearsal was productive and a pleasant experience. I am extremely proud of how quickly we grew together in just one week's time. This group was playing Mozart and Brahms better than most professional orchestras in this country. The concert was so exciting.

The Juilliard Orchestra is no longer an orchestra made up of young talented musicians who all want to become soloists and have no respect for the orchestral canon.  These students I worked with last week are all musicians who are sensitive to their colleagues and to the conductor. They move and breathe together; they share a wonderful work ethic and a sense of humor.  If this is the future of orchestral music in the States, I am not worried at all.

So, let's make room for them!  I have conducted too many orchestras where individuals can't play their instruments anymore.  I know this is a very controversial statement, but if we want the public to love classical music as much as we do, we have to invigorate the field with these young, talented musicians. (I want to digress and clearly explain that younger does not mean better.  While being the assistant conductor of the Cleveland Orchestra, I had the privilege of spending time with some "older" musicians.  One colleague and friend comes to mind – Emilio Llinas who shares a stand with the principal second violin, Steve Rose. Emilio was actually hired by George Szell, and he continues to be one of the most dedicated and passionate players in the orchestra. I learned so much from his experience and I joke with him that he has been my main conducting teacher!) Obviously, there is a bigger picture to this argument and it's easier said than done.  We can't play God and tell people when to retire, still, I'm hoping that some changes may come to the system in the near future to encourage the timely turnover of orchestral chairs. As much as it's a touchy subject, these days there are too many talented musicians and too few jobs.

Posted by James Gaffigan at 8:52 am Comments Off
http://jamesgaffigan.com/blog/?p=45