In a different time and place, I would have though the press release from the Chicago Symphony Orchestra (CSO) announcing that music director Riccardo Muti became ill and fainting during Thursday's rehearsal and Leonard Slatkin was going to fill in was a gag. But sure enough, Muti was ill and taken to a local hospital although all reports seem to indicate that he will be fine. And yes, Slatkin took over the concert…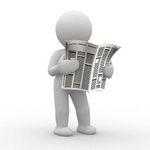 In fact, Slatkin was already on the way to Chicago as a panelist for the International CSO Sir Georg Solti International Conductors Competition and Apprenticeship when he got the call. The CSO made a few program changes and the concert went on as scheduled.
The 2/3/2011 edition of the Chicago Tribune has an excellent article by John von Rhein and Mark Caro that is loaded full of additional details; likewise, the Chicago Sun Times has an article by Andrew Patner that additional details.
All in all, it doesn't seem to be anything overly concerning; yes, Muti canceled a number of concerts earlier in the year due to health problems. Yes, we can likely expect a good bit gossiping about the timing of this incident shortly after his return but as of now, it looks like that's all there is to it.