Today's title is taken from a recent blog post by Noa Kageyama at The Bulletproof Musician (Hat Tip to Frank Almond's Facebook page). Not only is a great example of a catchy yet meaningful headline, but it also provides some clarity in the identity crisis storm that seems to be plaguing too many professional performing arts organizations these days…
Take particular note of the quote Kageyama includes at the end of the article as his One Sentence Summary (I like that feature!):
[sws_blockquote_endquote align="left" cite="Charles Mingus (American jazz musician) " quotestyle="style03″] "Creativity is more than just being different. Anybody can plan weird; that's easy. What's hard is to be as simple as Bach. Making the simple, awesomely simple, that's creativity." [/sws_blockquote_endquote]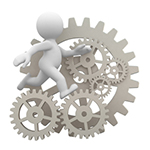 Now go back and read the Mingus quote again. Really get's gears turning, doesn't it?
There's a great debate underway within the business that some might surmise as a battle for the soul of live orchestral classical music. One side fears that there's a wholesale corruption of artistic standards and those changes will ultimately hasten any decline. The other side believes that redefining artistic excellence is an acceptable course of action so radical changes can be justified by an equal shift in the very definition of success.
What do you think? Do you see any connections between Mingus' quote and this debate?