At nearly three quarters of a million views and more than 700 comments, you've probably seen the article from the 9/5/2011 edition of cracked.com by Lillian Marx titled 5 Bizarre Dark Sides to Modern Orchestras. Keep in mind cracked.com is a comedy site so don't go into this thinking it's an epilogue to a Foundation study.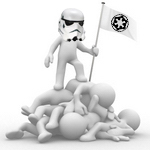 Consequently, it's filled with more than a few "light facts" but at the same time, it's a very telling account of what like if like for some stakeholders in the field, particularly musicians.
It gives a reasonable forest for the trees perspective on some issues that get bogged down with details. For example, whenever I work with orchestra boards for groups with budgets up to $2 million, it isn't unusual for some discussions surrounding expectations for musician commitment to begin drowning in minutia. At these points I have a few pointers to interject to help restore the necessary perspective.
Now, before you go off to Marx's article, remember that the site focuses on an edgy content style so be prepared for all sorts of NSFW language. But really, if you've worked in this business for more than week, you won't run across anything you haven't heard before.
So go and enjoy and then pop back over and leave a comment with any items you think they left out of their list.