I'm pleased to report that the video from my TEDx: Technology and Transformation in the Arts talk from May, 2011 is now available at the TEDx YouTube Channel. All in all, I'm grateful that the video and audio came out quite well.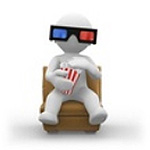 The video producers did a great job at inserting copies of the slides into the actual video and you can find full size copies of each slide along with a transcription of the presentation in a post that went up shortly after the event. Feel free to share your thoughts and observations about the talk here and/or the YouTube page and if you are so inclined, you can even leave a video reply at the latter.
Thanks again to David Zoltan, the man behind TEDx Michigan Ave, for inviting me to be a speaker. It was a terrific afternoon and I'm thrilled to finally be able to share the talk with everyone.