I'm honored to have been asked to contribute a few posts to the 2011 National Arts Marketing Project blog salon. My initial contribution went up yesterday and focuses on the responsibility of technology providers overselling the merits of what a product can accomplish. The idea came to me after receiving a text message from a colleague that read "…always fun to watch as people realize [Technology-X] doesn't cause gumdrops and lollipops to fall from the sky…"

I'm very curious to see what, if any, response the piece inspires from readers, especially the bit about creating an arts technology code of conduct to establish recommended ethical business practices, etc. so head on over to ARTSblog and chime in with your observations and thoughts.
Read the full blog post
Get In On The One-To-One Coaching Before It Fills Up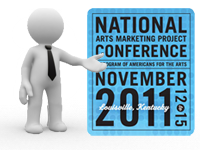 In addition to contributing to the blog salon, I'll also be serving as a coach in the conference's One-To-One coaching sessions on Monday, November 14, 2011 from 3:30 pm – 5:15 pm on the topic of designing an effective arts website. According to the conference website, sign-ups will be accommodated on a first-come, first-served basis so if you're already signed up for the conference (kudos to you if you are) you can submit a request online at the coaching sign up page or sign up in person in the conference CenterStage.
Let's Do A Dine-Around
In addition to the coaching, I'll also be hosting one of the conference's Dine-Around events on Monday, November 14, 2011 at 7:30pm to facilitate a session titled Making sure your website doesn't suck. Think of it like an everything-you-wanted-to-know-about-websites-but-were-afraid-to-ask oriented conversation.
Meaning, this isn't going to be an evening relegated only to geek-speak (okay, maybe a little); instead, we'll get into the fun stuff like how to deal with existing providers, board member influence (good and not so good), how to get budgets approved, content planning, best practices as well as fielding any and all questions participants can come up with.
Dine-Arounds are typically limited to 10 per event so sign up early at the Louisville CVB desk located in Centerstage. If you aren't registered for the conference yet, you can do that online.