In a business as comparatively small and collegial (at least on the surface) as the orchestra business, it's tough to find someone who isn't afraid to speak honestly and from the heart about sensitive topics. Fortunately, we've got someone like Bill Eddins to point out the Emperor isn't wearing any clothes.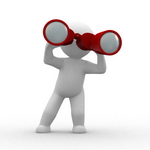 Case in point, Eddins' 2/12/2012 blog post at Sticks and Drones which presents a very candid overview of the ongoing New England Conservatory of Music (NEC) bugaboo along with his assessment of what needs to be done in order to marginalize the damage and begin moving on.
In order to bolster his points, Eddins provides a comparative analysis between the recent Susan B Komen Cancer Foundation incident (details) and the NEC-Zander ordeal. His conclusions are simple, yet profound, and since there's no fun in spoiling the surprise you should head over and read it firsthand.
Read Eddins' article
*Mark Twain; Notebook, 1902