Today marks my presentation during the What's Working and Must Work session from the 2012 Orchestra Summit and odds are, quite a few of today's visitors are looking for the resource content being referenced in the presentation. So without further adieu, here's everything you need:
Read the article which serves as the basis for the presentation.
Download a copy of the presentation in PPT format.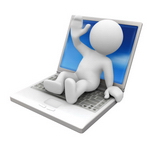 I'm hoping the moderator will take some questions from those following on Twitter so if there's anything you'd like to ask, you can do so via the #orchsummit2012.
The session begins at 10:50am ET and runs through 12:00noon ET and includes presentations from Jennifer Barlament (Kalamazoo Symphony); Jay Blumenthal (AFM Symphonic Services Director); Charles Burke , Shelley Heron and Judy Doyle (Detroit Symphony Representatives); and Nan Keeton (San Francisco Symphony). The session is moderated by Lester Monts.
And don't forget to drop by the official Orchestra Summit blog at http://www.insidethearts.com/orchestrasummit/
Lastly, to help dispel the myth that I blog for a living (seriously, how many culture bloggers can make a living at it?), don't forget that my mild mannered day job is working as an arts consultant and arts technology provider.