It was sad to read the news out of Minnesota yesterday in the 5/9/2012 edition of the Star-Tribune where an article by Graydon Royce reports that the Minnesota Orchestra (MO) has eliminated nine full-time administrative positions and laid off seven part-time administrative employees.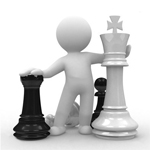 The cuts apparently coincide with the orchestra's anticipated departure from Orchestra Hall during renovations but it is tough to miss the fact that they also fall amidst tense collective bargaining agreement negotiations. The MO board leadership has already made it clear that they intend to secure a sharply concessionary contract.
Besides, a statement from MO president and CEO Michael Henson asserts that the board intends to ask the union "for the same expense commitments that we've asked from the staff."
If you'll indulge a bit of editorializing on my part, these sort of statements always strike me as being entirely unfair to the employees who end up with their collective necks on the chopping block.
Does anyone really believe that managers and staffers who get sacked during these sorts of circumstances do so willingly? Did these MO staffers have the option of saying "no" if they were indeed asked to be part of an expense commitment? Of course not; and I'm not asserting they should, but we do need to be more respectful when it comes to phrasing.
In a broader sense, putting those cuts into place while negotiations are underway is not always necessary. Ideally, if an institution is heading into what everyone realizes will be a concessionary bargaining cycle, it makes far more sense to wait and finalize any cuts until after an agreement is reached. After all, the board won't know exactly what the strategic income/expense landscape is until that point anyway.
So please, can we as a field, just this once, endure a labor conflict without using staffers like pawns to leverage concessions out of other stakeholders?
Every time this scenario pops up, it reminds me of that classic line from Blazing Saddles where enforcer-turned-protector Mongo reflects on his role within a larger, master plan.