Everything moves in cycles and for whatever reason, getting excited about the 2012 Summer Olympics hasn't made my to-do list. The only footage I've seen was via a television in a public space or when summer festival housemates were watching. Even then, the entire thing was more background noise than anything else but one item that caught my attention was the US national anthem.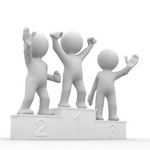 Granted, we've been down this road before. The version from the 2004 Greek games was simply dreadful and although the subsequent games (summer and winter) were better, none stood out in exemplary fashion.
And although the version composed for the 2012 London games by Philip Sheppard raised the bar a wee bit, it is still lacking. The cadences feel awkward; chord substitutions feel more like an academic exercise than the result of musical inspiration and even the pacing feels lopsided.
And as for the actual playing, I'm going to invoke the old proverb if you don't have anything nice to say…
In the end, it still seems like the simplest solution is one that has the most difficulty gaining any traction: let each country submit their own versions.
Yes, the medal ceremonies have time restrictions so some anthems will need to be edited for length but it's still better to let each country's official government send along what they prefer instead of placing this burden on the shoulders of a new composer every four years.
Nonetheless, here is an interesting video chronicling the process behind arranging and recording the anthems for the 2012 games that concludes with the full length version of the US anthem (at the 3:16 mark).
I'm curious to know what you think of the arrangement as well as the performance (courtesy of the London Philharmonic), so take a moment to send in a comment.