It seemed as though the election was over following the Republican Presidential Primary; after all, the media circus reached such a fevered pitch that it seemed self defeating to continue the exercise. But that euphoria was short lived and an article in the 8/15/2012 edition of CNN Money's Fortune blog reminds us that a down economy + presidential election = plenty of arts funding debate.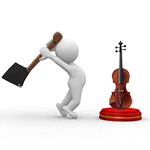 For example, the 8/15/12 blog post published an interview with Republican presidential candidate Mitt Romney which reveals his plans to eliminate the National Endowment for the Arts and the National Endowment for the Humanities, among other programs.
FORTUNE: You've promised to cap government spending at 20% of GDP. Specifically where will you cut?

MITT ROMNEY: There are three major areas I have focused on for reduction in spending. These are in many cases reductions which become larger and larger over time. So first there are programs I would eliminate. Obamacare being one of them but also various subsidy programs — the Amtrak subsidy, the PBS subsidy, the subsidy for the National Endowment for the Arts, the National Endowment for the Humanities. Some of these things, like those endowment efforts and PBS I very much appreciate and like what they do in many cases, but I just think they have to strand [sic] on their own rather than receiving money borrowed from other countries, as our government does on their behalf.
So there you go. It will be interesting to see if Romney's campaign pledge will have any impact on the current round of contentious labor disputes.